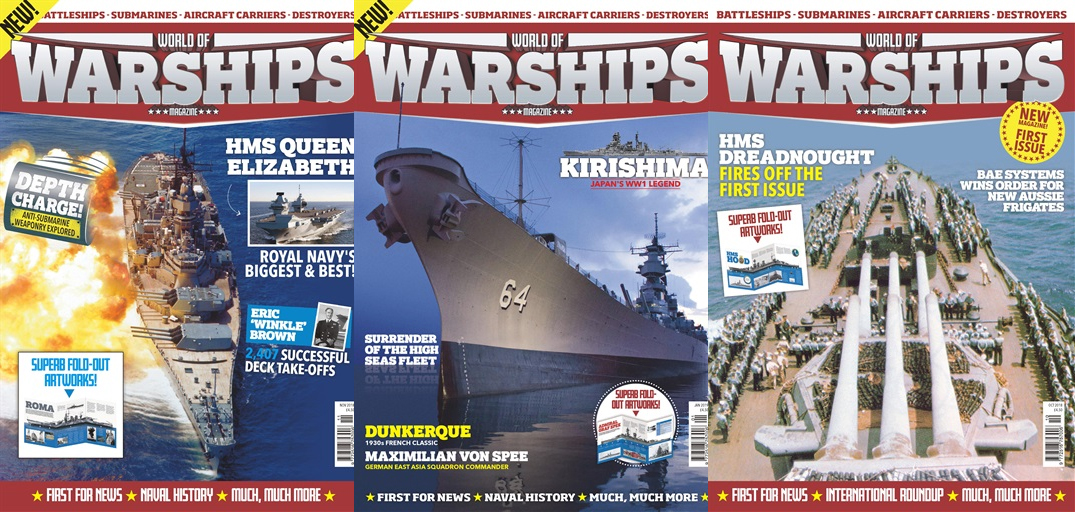 WORLD OF WARSHIPS MAGAZINE

A subscription to World of Warships Magazine will make the perfect Christmas gift!

To guarantee the first issue won't be received before Christmas, please choose to start your subscription with the issue named:
FEBRUARY 2019

Cover Price: £4.50
Frequency: 12 issues a year

Standard annual subscription rates:
UK: £54.00
Europe: £66.00
USA & Canada: £66.00
Rest of the World: £72.00

Warships have maintained a presence on the battlefield since the earliest days of sea-faring, with the Naval powers from around the world contributing to many great battles at sea.

This new 56-page magazine launched in September 2018 will cover such battles and battleships starting with the steel-clad warships of the 1900s, up to the modern day rulers of the seas – the highly sophisticated aircraft carriers and submarines of today.

We will have a Naval news section from around the world, features on famous people, conflict at sea, fascinating historical accounts and exciting places of interest that you can visit today. World of Warships will also feature some excellent naval paintings from the brushes and easels of leading Naval artists, plus superb, highly detailed, fold-out, triple gatefolds, featuring profile artworks in every issue, created by Andrew Hay.

The main thrust will of course be warships, encompassing destroyers, dreadnoughts, frigates, carriers, submarines et al, and their place in global naval history. Don't miss an issue, subscribe today...see details of the latest offer below.

---
Special Christmas Subscription Offers

6 Issues £19.99 OR 12 FOR £34.99. Treat yourself or buy for a friend or loved one.
---
SUBSCRIBE TO WORLD OF WARSHIPS MAGAZINE...


Never miss an issue
Free delivery to your door
Save money on the shop price
Free membership to our Book Club, where you save 25% off all listed titles

Editor's email: wowm.ed

@kelsey.co.uk


Subscription queries email:

subs@kelsey.co.uk
Be the first to read each issue and subscribe now. Your magazines will be sent direct to your door before they go on sale in the shops.