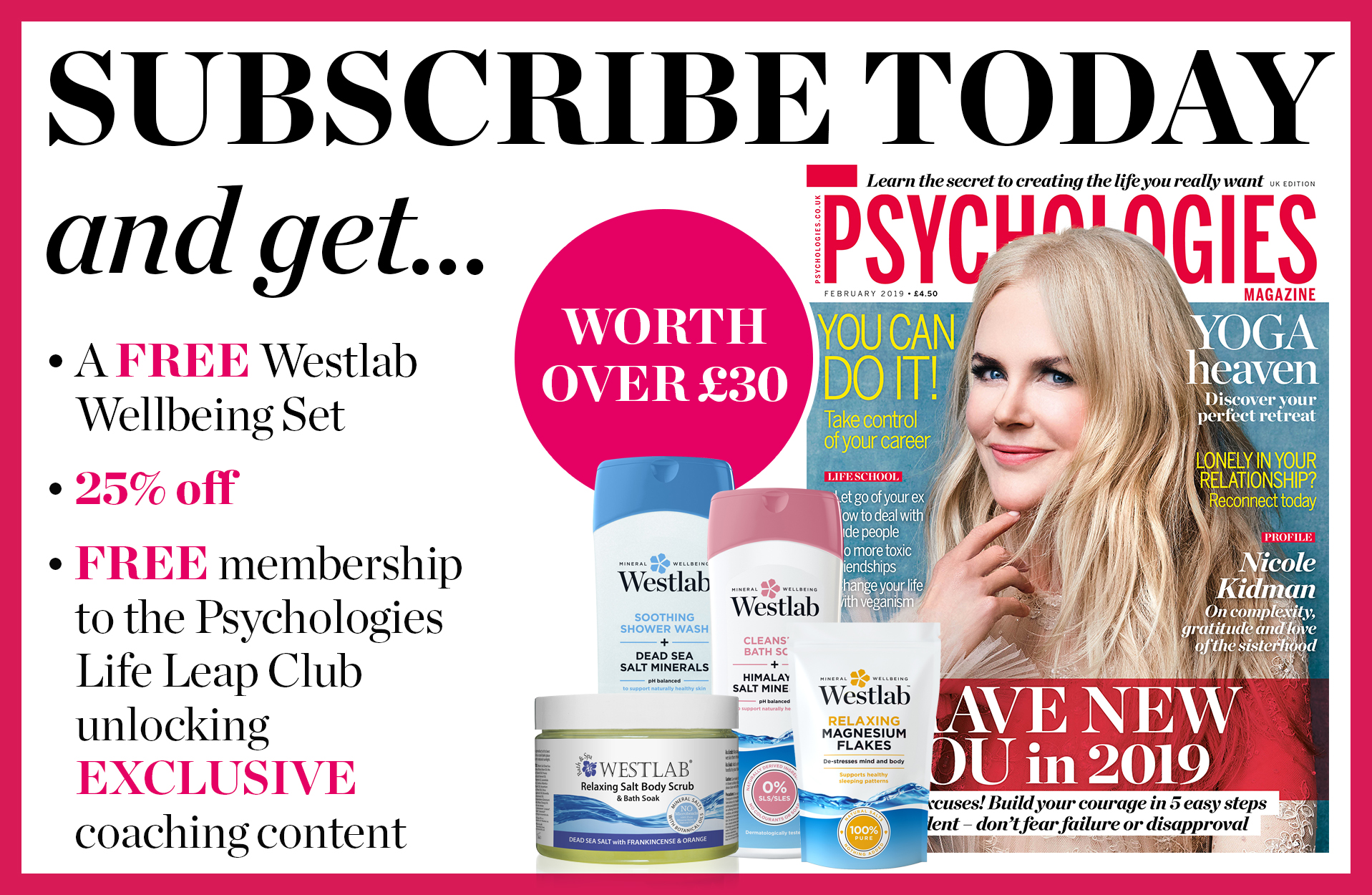 Welcome to Psychologies magazine

A subscription to Psychologies magazine will make the perfect Christmas gift!

To guarantee the first issue won't be received before Christmas, please choose to start your subscription with the issue named:
MARCH 2019

Creating a fulfilled, happy and healthy life that you love has never been easier than with Psychologies there to inspire and support you. Working with the world's leading experts, Psychologies brings you insightful and intelligent features on every aspect of life, from self, friends and family, to work, travel, rest and relaxation – every four weeks.
And now, you can also benefit from world class coaching - completely free when you take out a print subscription to Psychologies! You'll get weekly interactive coaching videos, an exclusive monthly podcast, downloadable workbooks and more. Among the many big names joining us as Psychologies Life Leap coaches are thought leader and bestselling author, Gabrielle Bernstein and heralded entrepreneur and bestselling author of Stop Talking, Start Doing, Shaa Wasmund, MBE.
---
Subscribe to Psychologies Magazine today...

Great reasons to subscribe...

Get 6 issues of Psychologies for £14.99 - saving 41%
Free world class coaching through our Psychologies Life Leap Club
Receive a FREE SCENTERED GIFT SET worth £27.50
Never miss an issue
Free delivery to your door month after month
Quote PYTP0119
---

Need help? Call today on 01959 543 7474 or email subs@kelsey.co.uk. Our hotline is open Monday-Friday, 8am-6pm.
Note: This offer is available to new UK subscribers only. For alternative offers please see the full list of Subscription Packages on this page.

Cover Price: £4.30
Frequency: 13 issues a year

Standard annual subscription rates:
UK: £55.90
Europe & North America: £70
Rest of the World: £76

Be the first to read each new issue and subscribe now. Your copy will be sent direct to your door before the magazine goes on sale in the shops.

Terms & conditions: This offer is available to new UK print subscribers only and is subject to availability. All orders will be acknowledged and you will be advised of commencement issue within 14 days. Kelsey Media reserves the right to change the terms of, or terminate, membership to Psychologies Life Leap at any time. We take great care in handling your personal details and these will only ever be used as set out in our privacy policy which can be viewed at shop.kelsey.co.uk/privacy-policy. You may unsubscribe at any time.