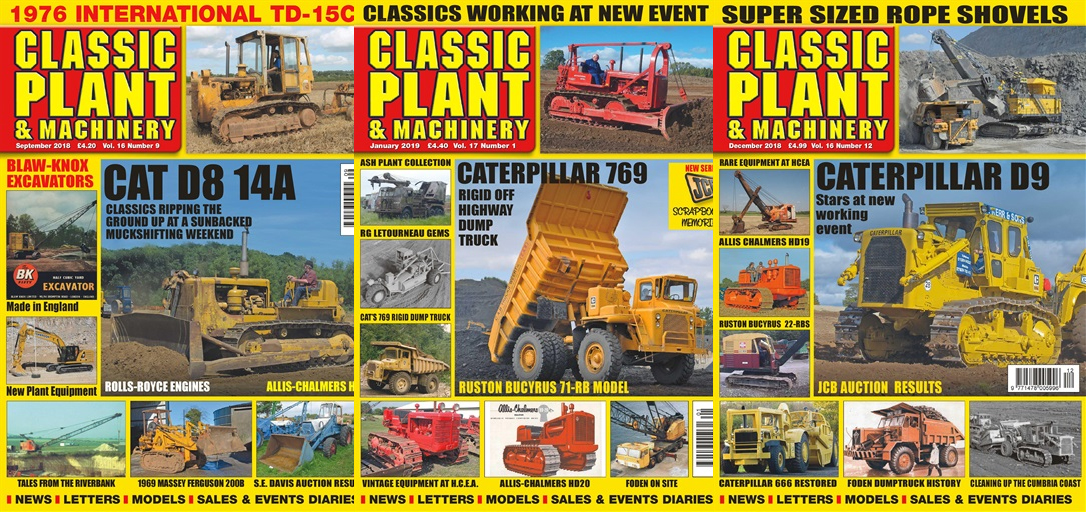 CLASSIC PLANT AND MACHINERY MAGAZINE

A subscription to Classic Plant and Machinery magazine will make the perfect Christmas Gift!





To guarantee the first issue won't be received before Christmas, please choose to start your subscription with the issue named:
FEBRUARY 2019

Cover Price: £4.20
Frequency: 12 issues a year

Standard annual subscription rates:
UK: £50.40
Europe: £63.00
USA & Canada: £63.00
Rest of the World: £69.00

Classic Plant & Machinery magazine covers construction, mining, road building, where would we be now without the pioneering development of industrial machinery from the likes of Bucyrus, Caterpillar, JCB, and many other firms, including the specialist conversion companies that saw the need and did the deed. We cover at a wealth of heavy machinery, as it was, in preservation and still at work now. You may even want to buy something from the reader free-ad pages!


---
Special Christmas Subscription Offers

6 ISSUES £19.99 OR 12 FOR £34.99. Treat yourself or buy for a friend or loved one.
---

SUBSCRIBE TO CLASSIC PLANT & MACHINERY MAGAZINE...
Never miss an issue
Free delivery to your door
Save money on the shop price
Free membership to our Book Club, where you save 25% off all listed titles
Editors Email: cpm.ed@kelsey.co.uk
Subscription Email: subs@kelsey.co.uk

Be the first to read each issue and subscribe now. Your copies will be sent direct to your door before they go on sale in the shops.