Welcome to Classic Jaguar magazine

Cover Price: £4.95
Frequency: 6 issues a year
Standard annual subscription rates:
UK: £29.70
Europe: £36.00
USA & Canada: £36.00
Rest of the World: £39.00

Classic Jaguar is the definitive celebration of this most iconic of British motoring marques. It will chart the historic journey of a car maker that started life in 1922 as the Swallow Sidecar Company in Blackpool. The company soon evolved into a Coventry based manufacturer of sports cars. With a new factory and glamorous new models, Jaguar was flying from the 1950s onwards as it exported cars like the MkVII saloon and XK120 around the world and achieved huge motorsport success at Le Mans.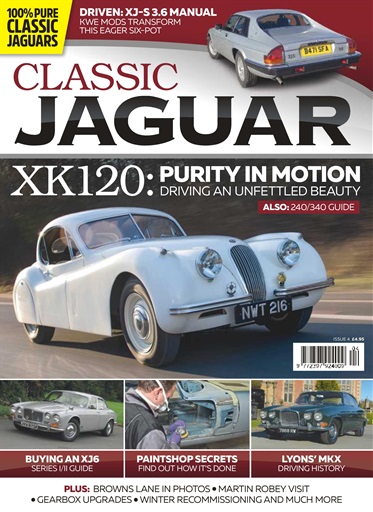 Classic Jaguar magazine aims to relive these golden moments, looking back in time at this magical era for Jaguar, profiling the people, the places and, crucially, the cars that made the company what it is today. With its focus on the traditional, classic models of the past, Classic Jaguar will be the perfect complement to the comprehensive coverage readers can also enjoy in Jaguar World magazine.


---
Subscribe today to get your favourite magazine every month plus your car gets a treat too with these fantastic Valet Pro protection products, absolutely FREE!
Black to the future: This trim and tyre dressing is a thick gel with fortified polymers to restore and protect tryes and plastic trim. Weather resistant finish that last for months.
Mad wax: Manufactured using a blend of Montan & Carnauba waxes, it's easy to use, has fantastic gloss and importantly offers up to three months durability. It's easy to apply and buff to a high gloss shine.
Micro fibre cloth: Cuts through polish and wax to reveal the clarity and beauty of your paint.
Soft applicator pad: Great at applying thin layers of wax or dressing product.

---
Be the first to read this exciting new publication and subscribe now. Your issues will be sent direct to your door before the magazine goes on sale in the shops.

Please note that subscription offers with free gifts are only available for new subscribers and for despatch to UK addresses