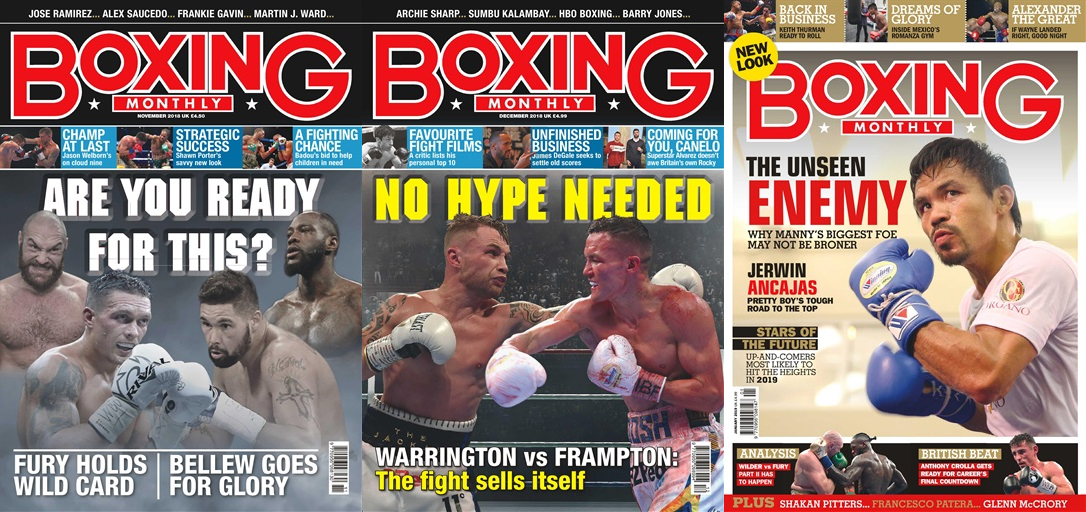 Boxing Monthly Magazine

Subscribe Today
Take advantage of our latest subscription offer...

12 issues for the price of 10
---
A subscription to Boxing Monthly is ideal for serious followers of the boxing arena.

Boxing can be the most thrilling and demanding of sports and Boxing Monthly magazine gives it to you in full colour, no punches pulled.

The magazine provides in-depth interviews with current and past fighters, fight previews reports plus widely-respected features and opinion pieces. It was founded in 1989 and is the best British boxing magazine available.

Boxing Monthly is full of blood, guts, intrigue and humour — above all it's a bloody good read!
"It's great for me to read people talking up my fighters... although I get as much of a buzz when they talk them down and I know they'll go on to prove them wrong! Boxing Monthly has been doing the business for years, and is the ultimate mag for those who know what fighting is about." Frank Warren, Boxing Promoter


---
Boxing Monthly Magazine
Cover Price: £4.50
Frequency: 12 issues a year

Standard annual subscription rates:
UK: £54
Europe: £66
USA & Canada: £66
Rest of the World: £72