Beach Clean 2019
Cornwall's Watergate Bay - Saturday, 18th May, 2019.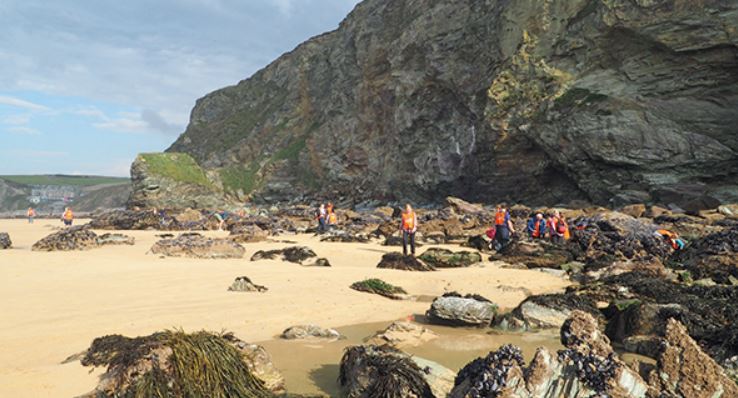 WHAT'S IN STORE?
Our day at the beach will begin with coffee and a catch-up in the Watergate Bay Hotel, then it'll be time to don our wellies and explore Watergate Bay's rockpools. With expert guidance from the MCS, we'll find all kinds of sea creatures.

Having worked up an appetite, we'll lunch at chic restaurant Zacry's at the Watergate Bay Hotel, where Cornish attitude is combined with a classic brasserie vibe.

Tums full, we head to the beach to do the beach clean, a survey led by the Marine Conservation Society - a charity that cares for our shores, seas and wildlife. Your finds will then be recorded, weighed and analysed, forming a valuable contribution to the research of the MCS. Next up it'll be back to the hotel for tea, coffee, cake and a prize giving, where spot prizes will be awarded and goodie bags handed out to all. See you there!
MAKE A WEEKEND OF IT

If you'd like to spend more than one day on this enchanting part of the North Cornish coast, there are plenty of things to do. Try your hand at all kinds of watersports with the Extreme Academy or kick back at Watergate Bay's Swim Club, which offers treatment rooms and a sea-view hot tub. For food, explore the enticing menus at family-friendly The Beach Hut and Jamie Oliver's Fifteen as well as Zacry's.
TEAM CLEAN

We're once again pleased to be partnering with family lifestyle brand, Joules. For more than ten years coast magazine and Joules have been cleaning British beaches side by side. We always look forward to rolling our sleeves up together come rain or shine to make sure everyone can enjoy our beaches for years to come. Head on over to joules.com to see its latest collections for all the family – it's well worth a visit if you're going to be exploring the great British outdoors this year.

SAVE £5 IF YOU SUBSCRIBE TO COAST MAGAZINE

The price for an adult day ticket is £25, if you subscribe to Coast magazine you will save £5 off this standard price. Just select the subscriber price below. Not currently a subscriber? Below you will see a great offer to subscribe and you can then instantly save the £5 on the Beach Clean ticket price.