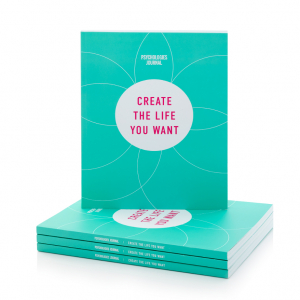 Psychologies Journal
Ref: JOURPSY
The Psychologies Journal
The beautifully designed Psychologies Journal is for those who want to achieve their goals whilst becoming more focused, positive and grateful. It contains exercises, prompts and planners to help you set goals geared towards creating a fulfilled, happy life you love. Brimming with words of wisdom and inspiration, it will help you connect with your core values on a daily basis and help you to be led by your inner guide - so you can move from dreaming to achieving. It's creative, it's engaging and will help you live your best life.
The Psychologies Journal will empower you to
o Create a new vision for your life
o Discover your daily happiness habits
o Overcome what's holding you back
o Focus on what fulfils you versus drains you
o Listen to a new positive soundtrack in your life
This 120 page softback journal is printed on high quality paper, measures 250mm by 190mm and is durable yet light in weight. Caution! If used regularly, this journal could totally transform, profoundly shape and dramatically alter your life!

Subscribers are eligible for a 25% discount – if you are a subscriber please click here.

Price quoted includes delivery to all UK addresses. Additional costs will be added during the checkout process to cover postage for any journals delivered outside the UK. £3.50 will be added to European orders and £4 will be added to all other orders.
View delivery options