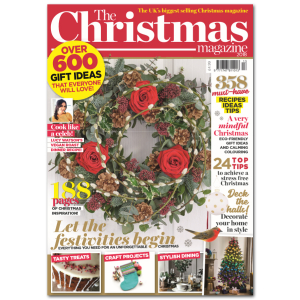 The Christmas Magazine 2018
BOOKS
Ref: CMS01012018
The Christmas Magazine 2018

Get your copy delivered to your door

In this years bumper 186 page issue...

• Being prepared – sailing through the season, beautiful table settings and 24 top tips to make this the best year yet.
• Fashion ideas – festive pjs, jolly jumpers and fab tips for party confidence.
• Food & Drink inspiration – Lucy Watson's ultimate vegan roast dinner, Christmas desserts and festive cheer with lots of beer
• Crafting – Fab felt stockings, tree decorations and making your own bath bombs
• Family time – festive days out with the family, walking in winter and treating the furry members of your household with pet treats
• Travel – Keeping the kids happy whilst travelling this holiday season, Christmas away from home and the best Christmas markets on the market
• Gift Guides
• Shopping
• Horoscopes by Russell Grant

...and much, much more!

Heather, the editor of this must read magazine for all Christmas fans, says...

Christmas seems to come quicker and quicker each year and with more choice than ever it's never too early to get organised and start planning for the big day.
The Christmas Magazine is a one stop shop for all your seasonal inspiration to see off 2018 in style. With 186 pages packed full of marvellous crafting ideas, gift guides for all the family, delectable festive treats (because the diet can start in January) and family time to entertain everyone from the kids to Grandma we have something for every taste.
We've scoured the shops to bring you the very best in this years festive pjs, jolly jumpers and fab tips for party confidence. Why not try the ultimate vegan roast dinner with Lucy Watson's delicious recipe or tips for keeping the kids happy whilst travelling in the car this holiday season. With crafting more popular than ever we have fab felt stockings, tree decorations and make your own bath bombs to have a go at which is sure to add that homemade magic touch to your special day!
We've got it covered – now you will too!
Merry Christmas to all our readers!

Price quoted includes delivery to all UK addresses

View delivery options