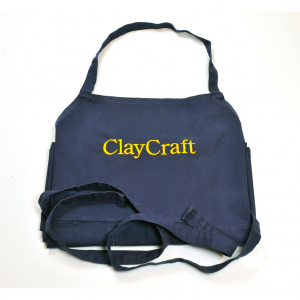 ClayCraft Apron
Ref: CLAYAPRON
Potter's split-leg apron
Perfect for keeping you clean while throwing, and when handbuilding or glazing. Our heavy-duty 100% cotton canvas apron is soft, strong and hardwearing, and comes in dark blue, with an embroidered logo. Each side split is 45cm, offering generous coverage for each leg without the need for constant adjustments. The 15cm pocket is handily placed for convenience while you're sitting at the wheel, and the extra-long waist ties provide comfortable fastenings for all sizes.
One size fits all. 121cm long, 73cm wide, waist ties each 97cm. Fabric weight 320gsm. Wash up to 60°C.

Price quoted includes delivery to all UK addresses. Overseas postal costs will be added during the checkout process.
View delivery options