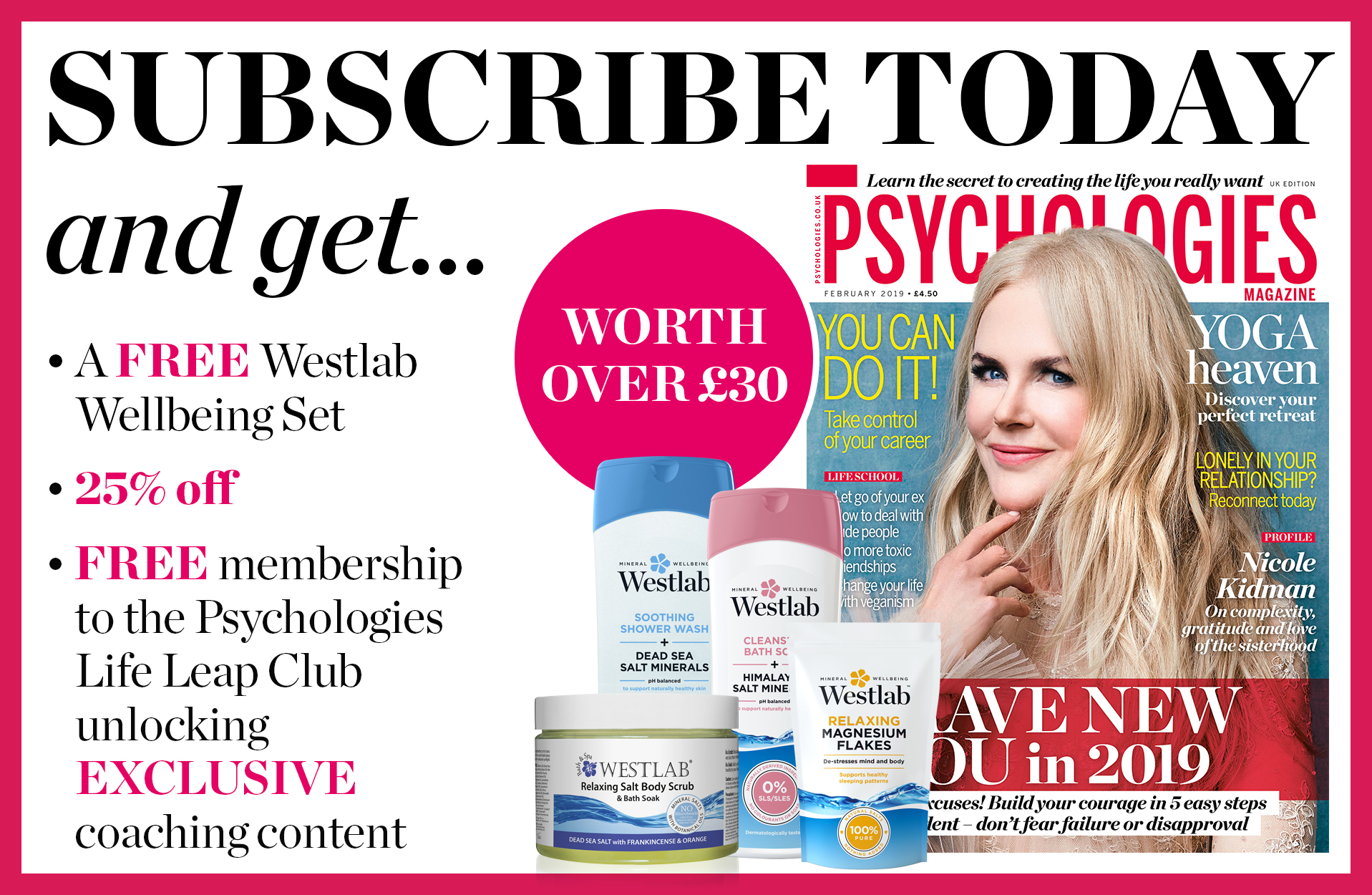 Welcome to Psychologies magazine

Buying as a Christmas Present? Make sure you choose to start your Subscription with the
MARCH 2018 ISSUE
to guarantee no Magazines are sent before Christmas

Subscribe to Psychologies today for just £12.60 for 6 issues.

PLUS…
• Receive a FREE OSKIA Micro Exfoliating Balm, WORTH £53!
• Pay just £2.10 a issue for your first 6 issues (usually £4.20)
• Continue to SAVE 20% after your introductory offer
• Enjoy exclusive subscriber-only offers through the Psychologies Subscriber Club
• NEVER miss an issue
• Get delivery straight to your door before the magazine hits the shelves
Psychologies magazine is the original positive living bible, covering all aspects of wellbeing. Intelligent and intimate, Psychologies nurtures your body and mind. Inside every issue you'll find brilliantly insightful and intelligent writing on the issues that matter to you. Psychologies has every aspect of your life covered, from self, friends and family to work, travel, rest and relaxation.
Subscribe today and join the growing tribe of Psychologies readers on the journey to living their best life.
This offer is available to UK subscribers only. For alternative offers please see the full list of Subscription Packages on this page.

Need help? Call 01959 543 7474 and quote reference PYYP1117 for this offer.

Cover Price: £4.20
Frequency: 13 issues a year

Editor: Suzy Greaves
Managing Editor: Danielle Woodward
Acting Art Director: Lynne Lanning

Standard annual subscription rates:
UK: £54.60
Europe: £69.49
USA & Canada: £69.49
Rest of the World: £75.99

Please note that we can only deliver subscription gifts where applicable to addresses within the UK.
Other customers also bought ...