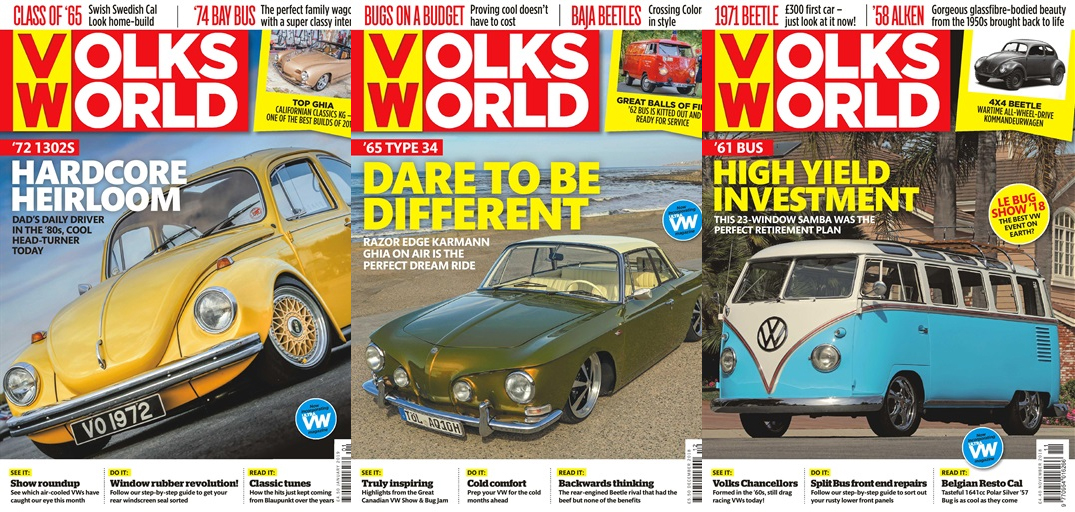 Welcome to VolksWorld

Cover Price: £4.40
Frequency: 13 issues a year

Editor: James Peene
Art Editor: Steve Gosling
Standard annual subscription rates:
UK: £57.20
Europe: £70
USA & Canada: £70
Rest of the World: £76
VolksWorld magazine is Britain's best-selling magazine dedicated to the whole air-cooled VW scene and a must-buy for all fans of the legendary vehicles, particularly the iconic Beetle. VolksWorld takes pride in going to extraordinary lengths to bring its readers the most outstanding and fascinating features packed full of the very best photography and information that cannot be found anywhere else.


---
Subscribe today to get your favourite magazine every month, plus your car gets a treat too with these fantastic Valet Pro protection products, absolutely FREE!

Purple Passion: An easy to use paint cleanser that effortlessly removes fine marring from the paint surface while leaving a highly glossy, silky finish. This is the perfect pre wax paint cleanser creating the perfect base for Mad Wax.
Mad Wax: Manufactured using a blend of Montan & Carnauba waxes, it's easy to use, has fantastic gloss and importantly offers up to three months durability. It's easy to apply and buff to a high gloss shine.
Micro fibre cloth: Cuts through polish and wax to reveal the clarity and beauty of your paint.
Soft applicator pad: Great at applying thin layers of wax or dressing product.
---
Be the first to read each issue and subscribe now. Your magazines will be sent direct to your door before they go on sale in the shops.
Please note that we can only deliver subscription gifts when offered to addresses within the UK