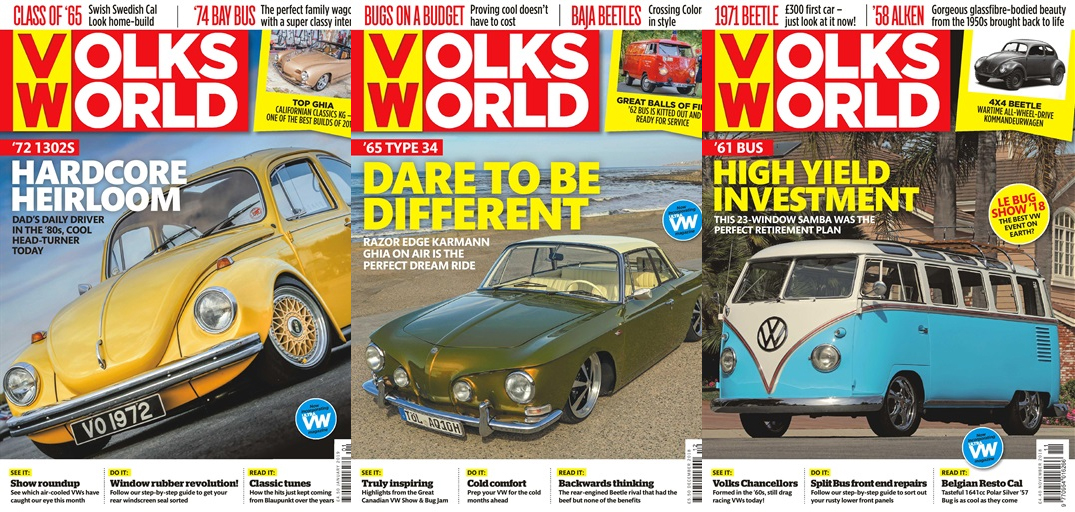 Welcome to VolksWorld magazine

Cover Price: £4.20
Frequency: 13 issues a year

Editor: James Peene
Art Editor: Steve Gosling


Standard annual subscription rates:
UK: £54.60
Europe: £69.49
USA & Canada: £69.49
Rest of the World: £75.99
VolksWorld magazine is Britain's best-selling magazine dedicated to the whole air-cooled VW scene and a must-buy for all fans of the legendary vehicles, particularly the iconic Beetle. VolksWorld takes pride in going to extraordinary lengths to bring its readers the most outstanding and fascinating features packed full of the very best photography and information that cannot be found anywhere else.
SUBSCRIBE TO VOLKSWORLD AND RECEIVE FREE POWER MAXED CLEANING KIT
This issue we are giving away to new subscribers a gift pack from Power Maxed which features a variety of concentrated car cleaning products from their range.
100ML POWER MAXED TRAFFIC FILM REMOVER CONCENTRATE Cleans and degreases vehicle bodies, alloy wheels and chassis. Simply dilute and use as a touch-less prewash with the added bonus of being wax safe.
100ML POWER MAXED JET WASH & WAX CONCENTRATE Foam boosters gently and ef?ciently lift dirt and grease from your car surface leaving you to just rinse and wipe. Completely wax safe, dilutable touch-less treatment.
100ML GLASS CLEANER CONCENTRATE Non smear formula keeps cleaning an easy process, loosening and breaking down ?lth stuck to glass and mirrors.
100ML ALLOY WHEEL CLEANER CONCENTRATE Works by penetrating and breaking down soil particles on the wheel surface. Simply dilute and spray on alloy wheels, allow product to dwell, and wash off.
100ML TYRE DRESSING This dressing contains materials that assist and enhance the appearance of tired rubber. Simply add a small amount to an applicator, spread around tyre and allow to dry.
25ML SACHET OF POWER MAXED SHAMPOO & ULTRA WAX
MICROFIBRE TOWEL
TRIGGER


So go on what are you waiting for, subscribe to VolksWorld magazine today!

Please note that we can only deliver subscription gifts when offered to addresses within the UK