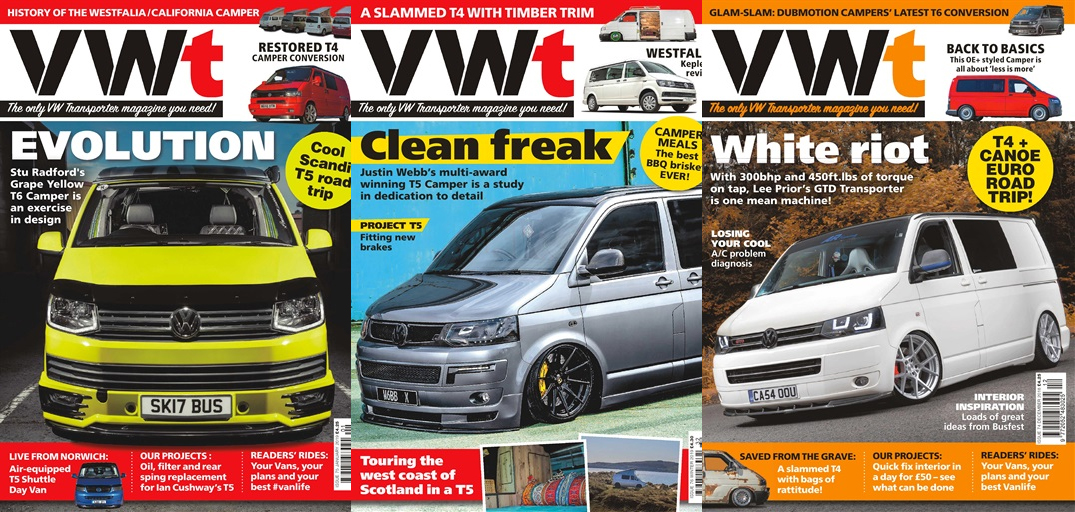 Welcome to VWt magazine

Cover Price: £4.25
Frequency: 13 issues a year

Editor: James Peene
Art Editor: Barbara Stanley

Standard annual subscription rates:
UK: £55.25
Europe: £70.00
USA & Canada: £70.00
Rest of the World: £76.00

VWt Magazine is aimed at owners/enthusiast of the Volkswagen Transporter from the T4 model upwards. The magazine includes features about T4s and T5s, product reviews, road tests, shop tours, road trips, Transporter history and reader's rides. VWt Magazine is all about reader value. Each issue has 100 pages jammed packed with everything anyone would ever need to know about T4s and T5s and costs just £3.95.

Subscribe today to get your favourite magazine every month plus your car gets a treat too with these fantastic Valet Pro protection products, absolutely FREE!
Black to the future: This trim and tyre dressing is a thick gel with fortified polymers to restore and protect tryes and plastic trim. Weather resistant finish that last for months.
Mad wax: Manufactured using a blend of Montan & Carnauba waxes, it's easy to use, has fantastic gloss and importantly offers up to three months durability. It's easy to apply and buff to a high gloss shine.
Micro fibre cloth: Cuts through polish and wax to reveal the clarity and beauty of your paint.
Soft applicator pad: Great at applying thin layers of wax or dressing product.


So go on what are you waiting for? Subscribe to VWt magazine today!

Please note that we can only deliver subscription gifts when offered to addresses within the UK.