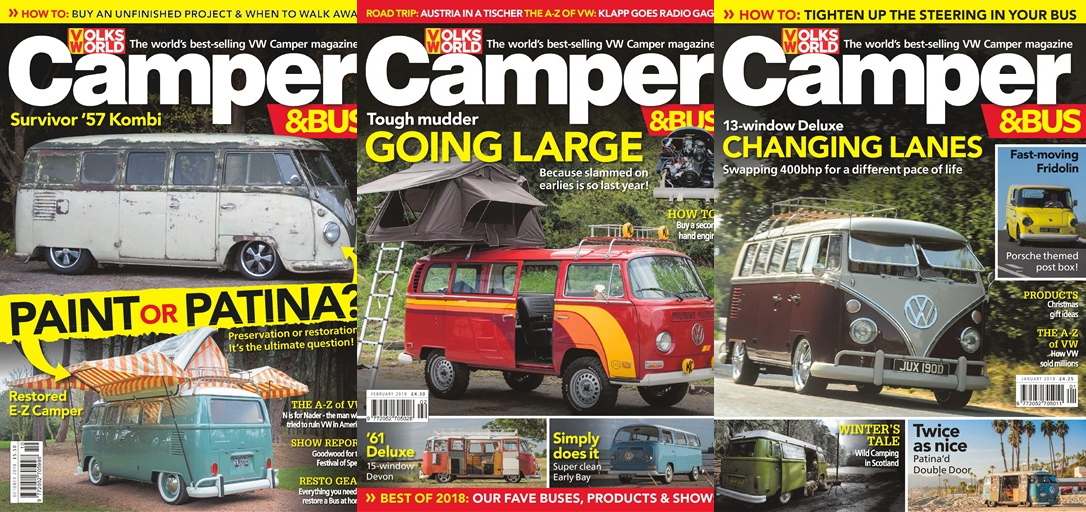 Welcome to VW Camper & Bus magazine
Buying as a Christmas Present? Make sure you choose to start your Subscription with the
MARCH
2018 ISSUE
to guarantee no Magazines are sent before Christmas
VW Camper & Bus magazine:
Cover Price: £4.20
Frequency: 13 issues a year
Editor: James Peene
Art Editor: Michelle Mitchell

Standard annual subscription rates:
UK: £54.60
Europe: £69.49
USA & Canada: £69.49
Rest of the World: £75.99
SUBSCRIBE TO VW CAMPER & BUS MAGAZINE AND RECEIVE A FREE VALET PRO WAX KIT
Subscribe today to get your favourite magazine every month plus your car gets a treat too with these fantastic Valet Pro protection products, absolutely FREE!
Black to the future: This trim and tyre dressing is a thick gel with fortified polymers to restore and protect tryes and plastic trim. Weather resistant finish that last for months.
Mad wax: Manufactured using a blend of Montan & Carnauba waxes, it's easy to use, has fantastic gloss and importantly offers up to three months durability. It's easy to apply and buff to a high gloss shine.
Micro fibre cloth: Cuts through polish and wax to reveal the clarity and beauty of your paint.
Soft applicator pad: Great at applying thin layers of wax or dressing product.
Please not that we can only deliver subscription gifts to addresses within the UK