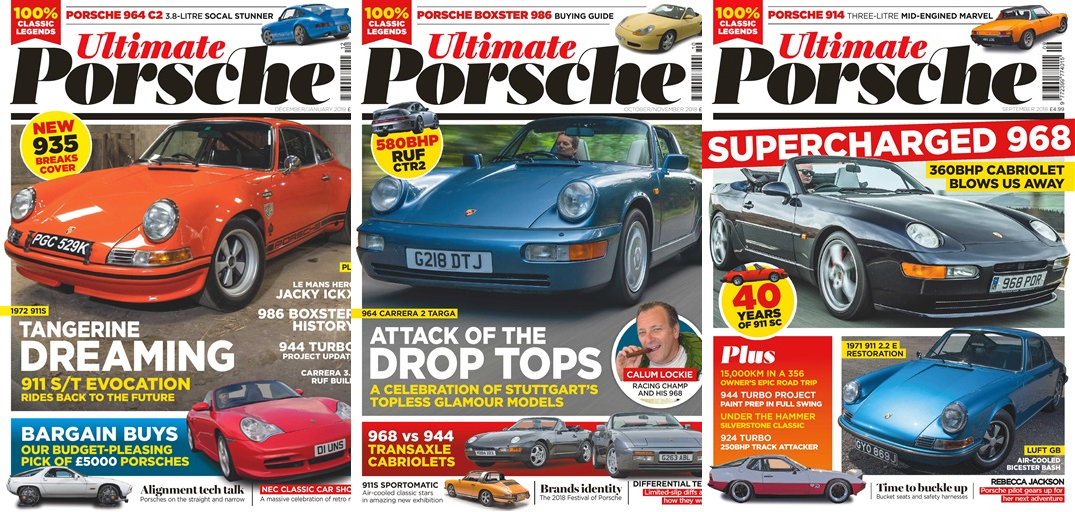 Welcome to Ultimate Porsche

Monthly publication (twelve issues per annum)
Perfect bound
£4.95 cover price
Discounted subscription deals
Editor: Dan Furr (Twitter: @DanFurr)

Standard annual subscription rates:
UK: £59.40
Europe: £69.99
USA & Canada: £69.99
Rest of the World: £76.99

Ultimate Porsche is a brand new publication with the launch issue going on-sale on the 31st March 2017.





Ultimate Porsche is a bright, new, stylish, high quality monthly magazine dedicated to showcasing some of the very best classic Porsches around. We celebrate the manufacturer's legendary production models and its mighty motorsport machines, dipping into the Stuttgart concern's eighty-six-year history in order to uncover some of the finest four-wheelers ever produced.
We champion Porsches ranging from the ground-breaking 356 through to the 993, including corresponding generations of the all-conquering 911. We also shine a light on the luxury car maker's front-engined output, namely the 924, 928, 944 and 968. Modern classics? You betcha!
In addition to exceptional cars, we present owner stories, rare archive material, buying advice and expert opinion highlighting how you can best maintain and modify your Porsche. Furthermore, every issue of Ultimate Porsche includes special guest columns, and we draw attention to spectacular restorations that promise to end with the unveiling of fantastic feature cars.


SUBSCRIBE TO ULTIMATE PORSCHE AND SAVE 24%!

Subscribe today to get the magazine delivered direct to your door every month, plus if you are a brand new subscriber and live in the UK, your car gets a treat too with these fantastic Valet Pro cleaning products, absolutely FREE!
Advanced Neutral Snow Foam: A high foaming pre wash used to remove traffic film and other grime prior to shampooing a car. This product sits on the surface and encapsulates dirt, lifting it from the paint surface and carrying it with the foam when rinsed off.

Advanced Poseidon car wash: Using a special blend of cationic and polymers this car shampoo removers dirt with ease and when rinsed a protective gloss enhancing film is left on the paint surface. This sacrificial layer helps prolong the protection of your wax or sealant.

Mad Wax: Manufactured using a blend of Montan & Carnauba waxes, it's easy to use, has fantastic gloss and importantly offers up to three months durability. It's easy to apply and buff to a high gloss shine
Like Ultimate Porsche on Facebook: http://bit.ly/ultimateporsche
Take advantage of our discounted subscription deals and receive Ultimate Porsche before it hits newsstands. Each issue will be delivered direct to your door in advance of the official 'on sale' date.
To advertise please contact Catherine Rowe at Tandem Media
Phone - 01233 228750
Email - catherine.rowe@tandemmedia.co.uk