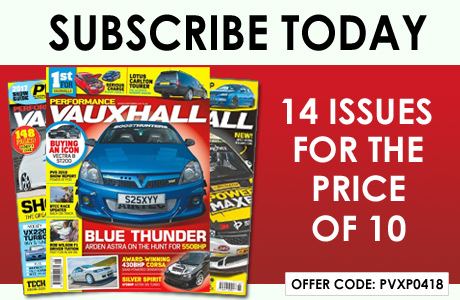 Welcome to Performance Vauxhall magazine.
Performance Vauxhall magazine:
Cover Price: £4.60
Frequency: 7 issues a year
Editor: Dan Furr (Twitter: @DanFurr)
Art Editor: Julian Jefferson


Standard annual subscription rates:
UK: £27.00
Europe: £37.99
USA & Canada: £37.99
Rest of the World: £41.99
Performance Vauxhall is the world's only magazine dedicated to showcasing tuned Vauxhall and Opel cars. Each issue is packed full of great Griffins and Blitz-badged belters, expert technical advice, event reports, motorsport news, product reviews, 'dream drives' and exclusive interviews with movers and shakers on the Vauxhall/Opel scene past and present.
In addition to this exciting content, Performance Vauxhall shines a light on spectacular restomod projects that promise to end with the unveiling of fantastic feature cars. Be it old-school cool or the latest VXR, Performance Vauxhall has it covered!
Take advantage of our discounted subscription deals and receive Performance Vauxhall before it hits newsstands. Each issue will be delivered direct to your door in advance of the official 'on sale' date.


FREE VALET PRO DETAILING KIT WHEN YOU SUBSCRIBE TO PERFORMANCE VAUXHALL
Subscribe today and get your favourite magazine every issue, plus your car gets a treat too with these fantastic Valet Pro cleaning products, absolutely FREE!
Subscribe today to get your favourite magazine every month plus your car gets a treat too with these fantastic Valet Pro protection products, absolutely FREE!
Mad wax: Manufactured using a blend of Montan & Carnauba waxes, it's easy to use, has fantastic gloss and importantly offers up to three months durability. It's easy to apply and buff to a high gloss shine.
Micro fibre cloth: Cuts through polish and wax to reveal the clarity and beauty of your paint.
Soft applicator pad: Great at applying thin layers of wax or dressing product.
To advertise, contact Simone Daws at
Akron Media on 07715 647951. Email:
simone@akronmedia.co.uk
Like Performance Vauxhall on Facebook: http://bit.ly/performancevauxhall
Follow Performance Vauxhall on Twitter: @PerformanceVaux

Please note that we can only deliver subscription gifts where applicable to addresses within the UK.