Welcome to Tractor & Machinery magazine.

Tractor & Machinery magazine:
Cover Price: £3.99
Frequency: 13 issues a year
Editor: Scott Lambert
Technical Editor: Andrew Hall
Group Editor at Large: Peter Love

Standard annual subscription rates:
UK: £51.87
Europe: £68.49
USA & Canada: £68.49
Rest of the World: £75.49
Tractor & Machinery magazine is the world's best-selling tractor magazine. Onsale every four weeks, this 180-page publication covers tractors from the 1940s through to the 1990s, reflecting an era of tremendous change in agricultural machinery. From the post-war austerity days when tractors started to become more common on our land through to the 1990s when new technology transformed farming forever, Tractor & Machinery has exclusive owner's stories, historical profiles, restoration stories, practical advice plus the latest news and sales results from the world of tractors. Each issue of Tractor & Machinery covers the most popular makes and models, such as Massey Ferguson, Ford, New Holland, International, John Deere and many more. In addition, however, the magazine also covers some of the quirkier tractors and implements around. For those with a hands-on knowledge, there's a dedicated Workshop section with essential practical advice, hints and tips. Furthermore, there's a Farm & Horticultural section looking at smaller machinery and implements – T&M is the only magazine to offer this huge variety of content. With readers all around the world, T&M is also able to bring readers the latest news, show reports and auction sale results from across the globe.

Subscribe to Tractor & Machinery Magazine and CHOOSE 2 FREE BOOKS WORTH £15.98! Choose any two of these fantastic Greatest Tractors books FREE when you subscribe today! Produced in full colour, with each title perfect bound with over 130 pages, The Greatest Tractor series takes its readers back to the golden age of Tractors and the iconic marques of the time.
SUBSCRIBE TO TRACTOR & MACHINERY AND RECEIVE FREE BOILER SUIT OVERALLS

This month we are offering new subscribers one of these fantastic boiler suit overalls absolutely FREE. A traditional, functional garment that offers comfort and rugged durability, keeping your under clothes clean whilst working on any of those mucky jobs.
FEATURES:
210GSM POLYESTER/COTTON
2STUDDED POCKETS ON BREAST
SINGLE PIECE BACK
CONCEALED PRESS STUDS
1 BACK POCKET
ELASTICATED BACK
AVAILABLE IN SIZES: M-XXL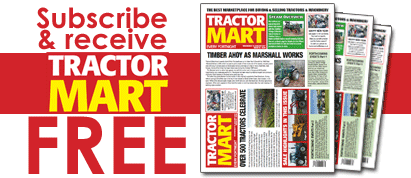 The latest issue of Tractor Mart is now free and delivered with each subscription copy of Tractor & Machinery.

Tractor Mart is a new fortnightly 40 page newspaper. It is packed full of tractors and machinery for sale, with additional editorial content linked to the featured tractors.

So what are you waiting for? Go on subscribe to Tractor & Machinery magazine today!

Please note that we can only deliver subscription gifts where applicable to addresses within the UK.