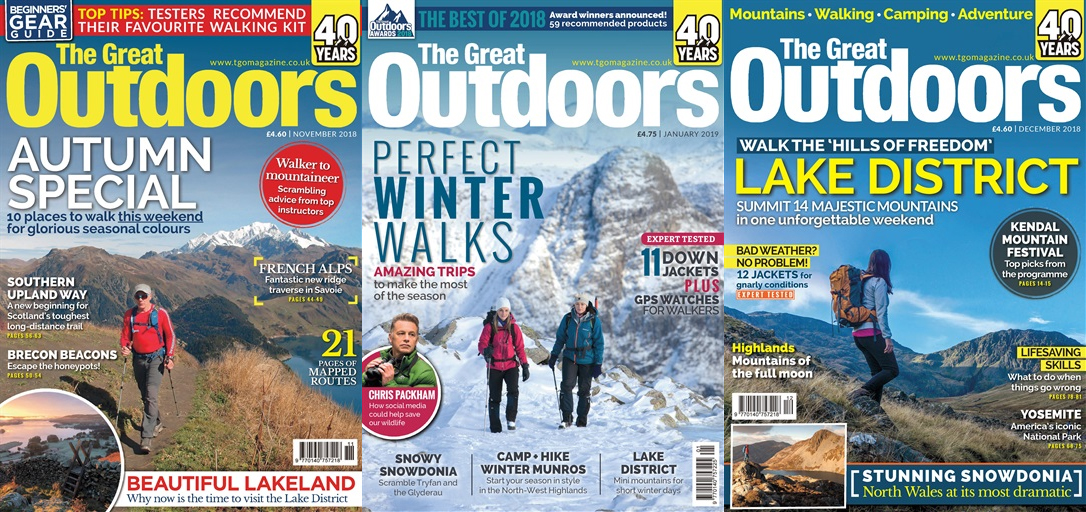 Welcome to The Great Outdoors Magazine
The Great Outdoors magazine:
Cover Price: £4.45
Frequency: 13 issues a year
Editor: Emily Rodway
Staff Writer: Will Renwick

Standard annual subscription rates:
UK: £57.85
Europe: £71.49
USA & Canada: £71.49
Rest of the World: £78.99
The Great Outdoors magazine was created by hillwalkers for hillwalkers, providing ideas, inspiration and the best gear reviews in the industry for almost 40 years. It's packed full of stunning photography, top-class writing and brilliant walking routes along with authoritative gear reviews from the country's most experienced team of testers and essential skills advice from highly qualified outdoor instructors.

SUBSCRIBE TO THE GREAT OUTDOORS AND RECEIVE 6 ISSUES FOR JUST £20 PLUS A FREE MULTI-ANGLE HEAD LAMP

This month we are not only offering The Great Outdoors subscribers 6 ISSUES FOR JUST£20, -SAVING 31%, but also this fantastic Electralight Multi-Angle Head Lamp absolutely FREE. The 12 long-life white LED'sprovide super bright illumination for hours. The multi-angle adjustable head allows for quickand easy adjustment of the light. A soft adjustable elasticated headband provides comfortable and secure hands-free operation.
Features four functions: low,medium, high and flashing and includes 3x AAA batteries.

SUBSCRIBE TO THE GREAT OUTDOORS...
Never miss an issue
Free delivery to your door
Save money on the shop price
Free membership to our Book Club, where you save 25% off all listed titles

So go on what are you waiting for, subscribe The Great Outdoors magazine today!

Please note that we can only deliver subscription gifts where applicable to addresses within the UK.

Other customers also bought ...