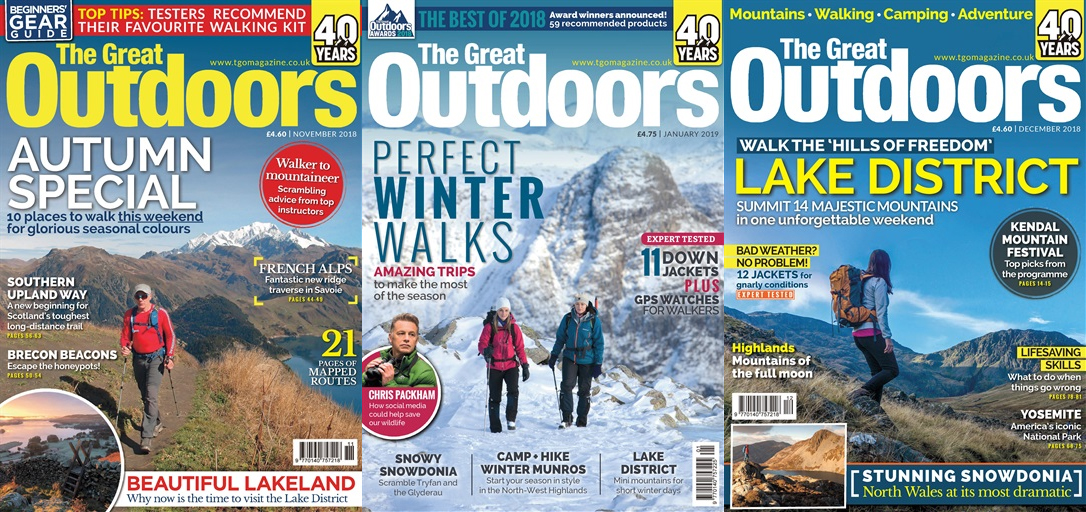 Welcome to The Great Outdoors Magazine

Buying as a Christmas Present? Make sure you choose to start your Subscription with the
FEBRUARY 2018 ISSUE
to guarantee no Magazines are sent before Christmas



The Great Outdoors magazine:
Cover Price: £4.50
Frequency: 13 issues a year
Editor: Emily Rodway
Staff Writer: Will Renwick

Standard annual subscription rates:
UK: £58.50
Europe: £71.49
USA & Canada: £71.49
Rest of the World: £78.99
The Great Outdoors magazine was created by hillwalkers for hillwalkers, providing ideas, inspiration and the best gear reviews in the industry for almost 40 years. It's packed full of stunning photography, top-class writing and brilliant walking routes along with authoritative gear reviews from the country's most experienced team of testers and essential skills advice from highly qualified outdoor instructors.

SUBSCRIBE TO THE GREAT OUTDOORS AND RECEIVE RECEIVE A FREE 100 EPID ADVENTURES BOOK!


This 172-page bucket list contains the greatest challenges and experiences on the planet. Each of the five sections – Hike, Climb, Run, Pedal and Paddle – starts achievably (but not easily), then pushes on relentlessly from there.
As it proceeds, each section typically adds distance (both in terms of travel time and how much ground you'll have to cover) and/or difficulty (level of experience required, range of skills needed, etc).
The world's most incredible adventures
Round-ups of worldwide challenges
Experiences
Adventures and races
Outstanding outdoor photography
The best outdoor gear for your adventure
Interviews with the worlds greatest adventurers


SUBSCRIBE TO THE GREAT OUTDOORS...
Never miss an issue
Free delivery to your door
Save money on the shop price
Free membership to our Book Club, where you save 25% off all listed titles

So go on what are you waiting for, subscribe The Great Outdoors magazine today!

Please note that we can only deliver subscription gifts where applicable to addresses within the UK.

Other customers also bought ...