Welcome to Tractor & Farming Heritage magazine.

Tractor & Farming Heritage magazine:
Cover Price: £3.99
Frequency: 13 issues a year
Editor: Tony Hoyland
Feature Writer: Dave Bowers
Contributors: Jo Roberts, J Whitlam, Richard Lfting & Ben Phillips

Standard annual subscription rates:
UK: £51.87
Europe: £68.49
USA & Canada: £68.49
Rest of the World: £75.49
Tractor & Farming Heritage magazine celebrates the development of the farm tractor from its historical roots, right up to the present day.

Readers can meet the owners and restorers and discover all the latest from vintage and modern scenes. Led by an expert team of enthusiast contributors, Tractor transports readers back to days gone by, while keeping them up to date with spectacular restoration projects.

All this is topped off with a burst of in-depth technical features and monthly reports on the many developments in the tractor and farming machinery world.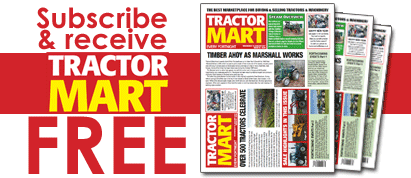 The latest issue of Tractor Mart is now free and delivered with each subscription copy of Tractor & Farming Heritage.

Tractor Mart is a new fortnightly 40 page newspaper. It is packed full of tractors and machinery for sale, with additional editorial content linked to the featured tractors.

SUBSCRIBE TO TRACTOR & FARMING HERITAGE AND RECEIVE TWO FREE BOOKS OF YOUR CHOICE
Subscribe to Tractor & Machinery Magazine and CHOOSE 2 FREE BOOKS WORTH £15.98! Choose any two of these fantastic Greatest Tractors books FREE when you subscribe today! Produced in full colour, with each title perfect bound with over 130 pages, The Greatest Tractor series takes its readers back to the golden age of Tractors and the iconic marques of the time.
1. FORDSON ICONS
Fordson F to Super Major
Owner's stories
Restorations
Buyer's guides
2. DAVID BROWN
VAK1 - 94 Series
Model profiles
Implements
Owner's restorations
Crawlers
Buyer's guides
3.THE REVOLUTIONARY FERGUSON
A piece of history
Restorations
TE-20s still at work
Special editions
4. INTERNATIONAL HARVESTER
From 1953-1985
Working classics
Model profiles
Combine harvesters
Implements
Down memory lane

GET YOURS FREE WHEN YOU SUBSCRIBE so go on what are you waiting for, subscribe to Tractor & Farming Heritage magazine today!

Please note that we can only deliver subscription gifts where applicable to addresses within the UK.