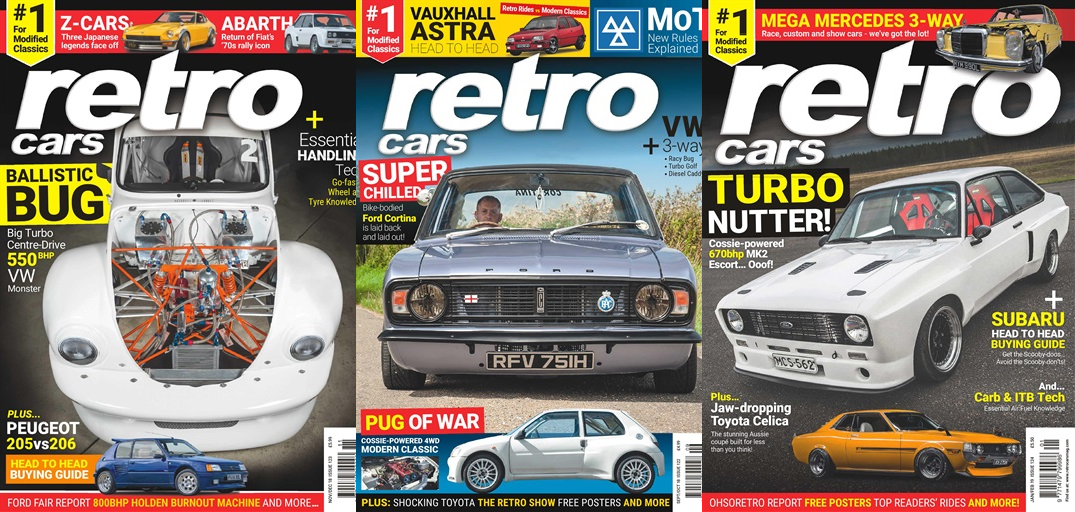 Welcome to Retro Cars magazine subscriptions
Retro Cars magazine:
Cover Price: £4.60
Frequency: 13 issues a year
Editor: Dan White
Managing Editor Contributor: JJ Vollans
Designer: Paul Sander

Standard annual subscription rates:
UK: £59.80
Europe: £70.99
USA & Canada: £72.99
Rest of the World: £79.99
Retro Cars magazine is the only dedicated monthly magazine for modified classic cars. Reflecting the massive diversity and attitude of this growing and stylish market, the magazine focuses on cars from the 1950s to the 1980s, and is packed with the finest show, daily-driven, and concours classics around. Ultimately if it's old, cool and oily, you'll find it in Retro Cars...

With accessible technical features covering all aspects of modified classic cars, and unrivalled extensive show coverage from around the world and so much more, this is the magazine that classic car owners and enthusiasts can't get enough of...
Subscribe to Retro Cars magazine today and get your favourite magazine every month, plus your car gets a treat too with these fantastic Valet Pro cleaning products, absolutely FREE!
SUBSCRIBE TO RETRO CARS AND RECEIVE A FREE MEGUIAR'S CARNAUBA WAX & MICROFIBRE CLOTH
Meguiar's strong, long-lasting protection to preserve your finish. The proprietary blend of premium carnauba plus protecting polymers delivers amazing results and this unique formula leaves your paint brilliantly reflective. Easily glides on and off, without leaving any dusty residue.

Ss go on! what are you waiting for? Subscribe to Retro Cars magazine today!

Please note that we can only deliver subscription gifts where applicable to addresses within the UK.
Other customers also bought ...