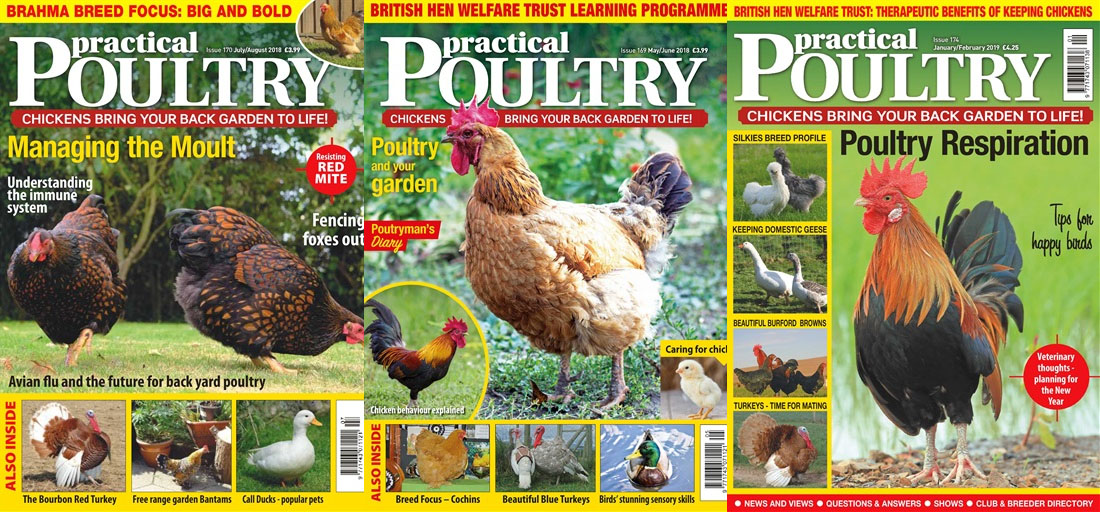 Welcome to Practical Poultry magazine

Practical Poultry magazine:
Cover Price: £3.80
Frequency: 13 issues a year
Editor: Chris Graham
Sub Editor: Rachel Eady
Art Editor: Rob Terry

Standard annual subscription rates:
UK: £49.40
Europe: £67.99
USA & Canada: £67.99
Rest of the World: £73.99

Practical Poultry magazine
is packed with helpful chicken advice from incubating eggs to poultry housing, feeds to breeding, and showing to selling chickens. This informative monthly magazine caters for chicken keepers at all levels, from beginners with a few chickens to established breeders working on small-scale commercial production. If you keep chickens, you need Practical Poultry magazine!
SUBSCRIBE TO PRACTICAL POULTRY AND RECEIVE A FREE PAIR OF SAFETY WELLINGTON BOOTS WORTH £15.95
Subscribe to Tractor and Farming Heritage this month and you'll receive a superb pair of PSF Wellington Boots, ABSOLUTELY FREE. These fantastic boots come with a nitrile steel midsole for added safety. They are also totally waterproof and antistatic, to keep you safe, dry and warm whatever you're doing. So get the ultimate in waterproof protective footwear with your subscription.
So go on what are you waiting for,
subscribe to Practical Poultry magazine
today!
Please note that we can only deliver subscription gifts where applicable to addresses within the UK.