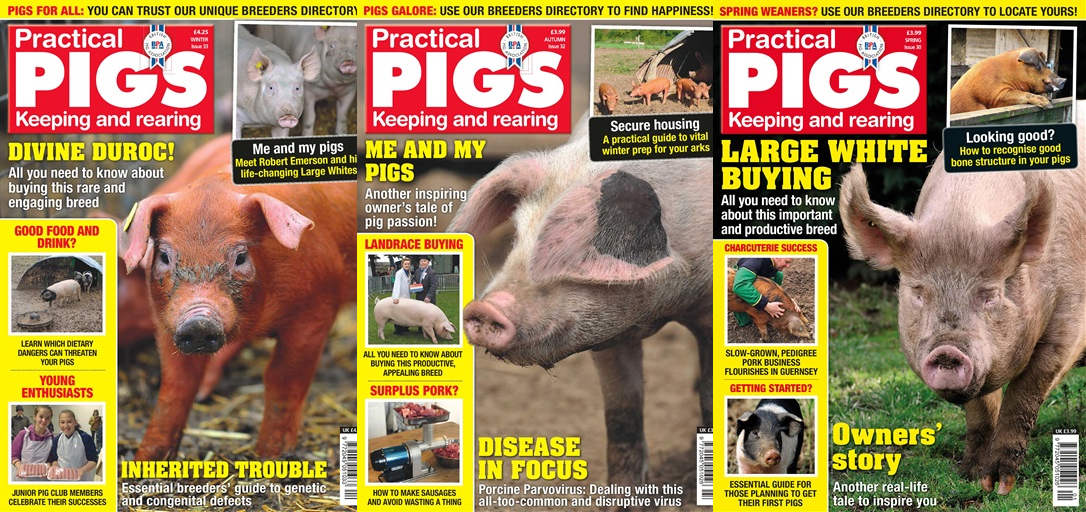 Welcome to Practical Pigs magazine
Practical Pigs magazine:
Cover Price: £3.99
Frequency: 4 issues a year
Editor: Chris Graham
Sub Editor: Rachel Edy
Art Editor: Rob Terry

Standard annual subscription rates:
UK: £15.96
Europe: £21.65
USA & Canada: £21.65
Rest of the World: £23.45
The official magazine of the British Pig Association, packed with practical advice and useful reference material for small to medium scale pig farmers, and anyone considering keeping pigs.

SUBSCRIBE TO PRACTICAL PIG KEEP AND RECEIVE A FREE BOOK WORTH £14.99

This issue we are offering new subscribers their choice of a free book worth up to £14.99. Both of these fantastic books will be awelcomedaddition to any home library, so go on what are you waiting for choose your free book and subscribe today!

Choosing & Keeping Pigs: This practical, accessible book is the ideal beginner's guide to these great animals, and includesclear instructions on choosing and looking after pigs, and expert advice on housing, fencing, feeding and farrowing.

Anyone can be a Smallholder: Written by long-term smallholder Liz Wright, she believes that smallholding in some form is open to each and everyone, whether they be flat dwellers or small farmers. This 100 page hand book is packed full of information, advice and inspiration which will help you to get started and to make the most of what you have to hand

So what are you waiting for? Go on subscribe to Practical Pigs magazine today!

Please note that we can only deliver subscription gifts where applicable to addresses within the UK.