Welcome to Old Glory
Cover Price: £4.25
Frequency: 12 issues a year
Standard annual subscription rates:
UK: £51.00
Europe: £64.49
USA / Canada: £64.49
Rest of the World: £70.49
Old Glory is Britain's best-selling magazine for steam and vintage machinery enthusiasts. Its blend of news, rally reports, exclusive features and archive material has provided inspiration for new restoration projects as well as giving readers a rare look at some old favourites.
Among the many and varied subjects covered are steam traction engines, mechanical organs, mill engines, steam ships, locomotives, veteran cars and scale models. Photographs and carefully reproduced documents from the Old Glory archive offer a nostalgic look back at steam's golden age and there's lively reader interaction in the letters and helpline columns.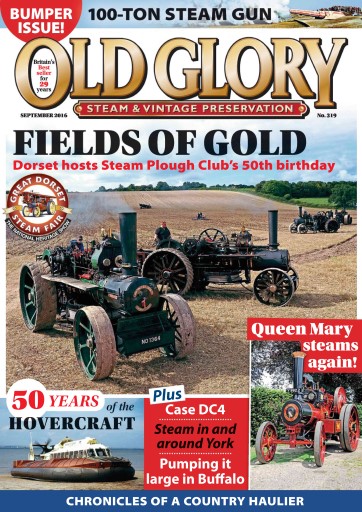 SUBSCRIBE TO OLD GLORY MAGAZINE...



SUBSCRIBE TO OLD GLORY MAGAZINE AND RECEIVE A FREE FRED DIBNAH DVD BOX SET


WIND, WATER AND STEAM: Fred takes a nostalgic tour of the country giving his own inimitable view on the Industrial Revolution.
MILLS AND FACTORIES: The series continues as Fred Dibnah traces the development of Britains textile industry from the picturesque Scottish countryside of New Lanark to the urban mill town of Burnley.
IRON AND STEEL: Fred takes a look at the development of the iron and steel industries at Ironbridge Gorge in Shropshire.
MINING: Freds tour takes him from Cornwall to Scotland, exploring how tin, slate, lead and coal were all extracted from the ground.
RAILWAYS: In this programme he traces the development of the railways from the first steam locomotive to the world record breaking Mallard.
SHIP AND ENGINEERING: Fred looks at the great age of shipbuilding and examines the skills of engineers.

Never miss an issue
Free delivery to your door
Save money on the shop price
Free membership to our Book Club, where you save 25% off all listed titles
So go on what are you waiting for, subscribe to Old Glory magazine today!