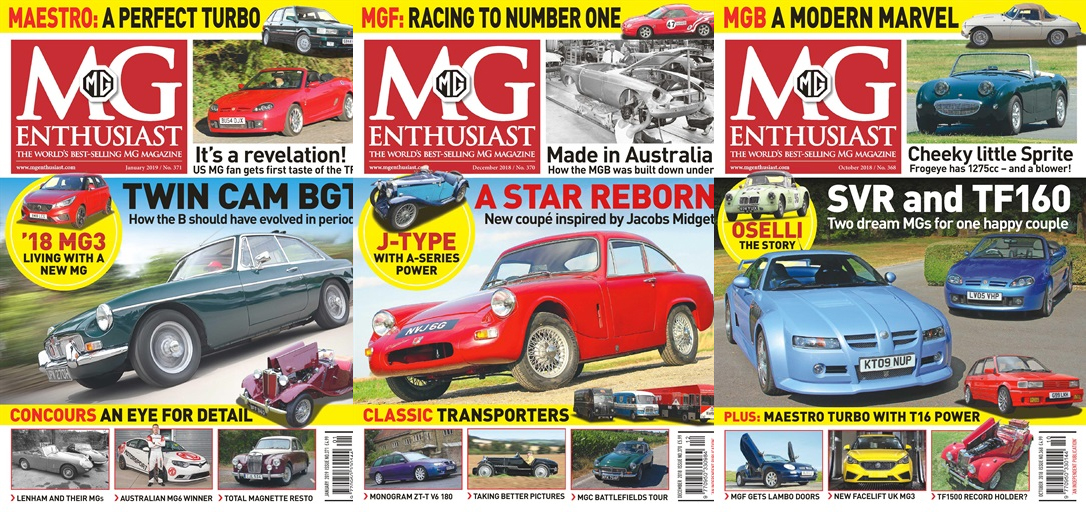 Welcome to MG Enthusiast
Cover Price: £4.80
Frequency: 13 issues a year
Editor: Simon Goldsworthy
Art Editor: Andy Hill
Standard annual subscription rates:
UK: £62.40
Europe: £76
USA & Canada: £76
Rest of the World: £82
MG Enthusiast magazine, the world's best-selling MG magazine, is the long-established make-specific publication dedicated to all MGs, covering all examples from the earliest 14/40s, through the T-Types to the more familiar shapes, including the Midget and the ubiquitous MGB; and not forgetting the more contemporary mid-engined MGF and the ZR/ZS/ZT saloons and hatchbacks.
---
FREE VALET PRO CLAY BAR KIT WHEN YOU SUBSCRIBE WORTH £24.99
Subscribe today and get your favourite magazine every month, plus your car gets a treat too with these fantastic Valet Pro cleaning products, absolutely FREE!
CITRUS BLING: Gives best results when used with our contamination removal bars. The silicone and wax in this product create a thin fi lm between the paint surface and the bar, effectively minimising the chances of marring the paint surface. Citrus Bling is however a very versatile detailer product, with a mixture of Carnauba wax and silicone emulsion enhancing gloss on wheels and paint but also offers protection simply by spraying and wiping.
CONTAMINATION REMOVAL CLAY BARS: Remove bonded contamination from paint surfaces that can't be removed by normal washing. Tar spots, fall out, bonded traffic film and tree sap. As the bar glides over the paint surface bonded contaminates stick to the bar and are gently removed from the paint work. If your paint work feels rough after washing, try a contamination removal bar and feel the difference. Orange and Yellow can be used with water making them cost efficient. Blue are our most effective bar, designed generally for full detailing work to quickly and effectively remove contamination.
---
Be the first to read each new issue and subscribe now. Your copy will be sent direct to your door before the magazine goes on sale in the shops.

Please note that we can only deliver subscription gifts where applicable to addresses within the UK.