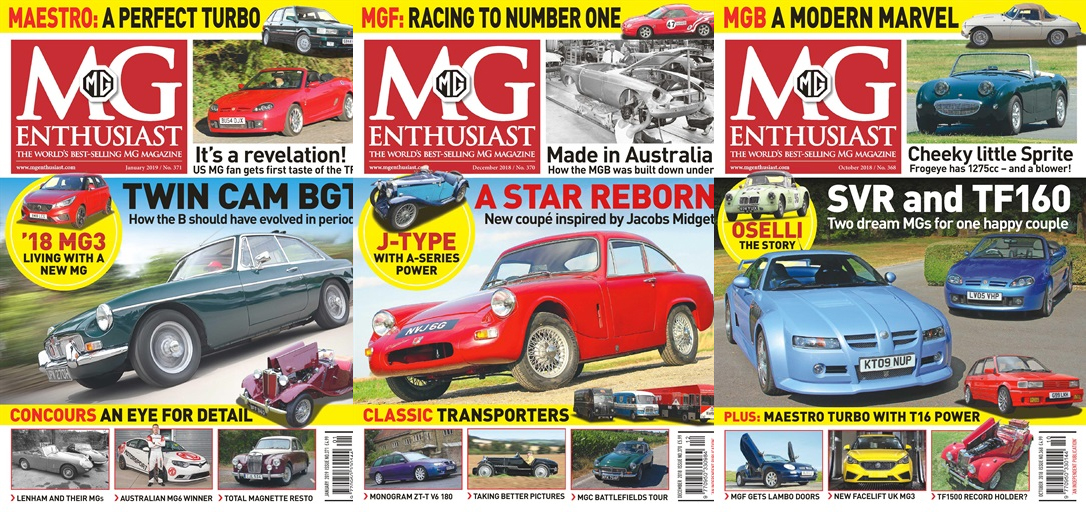 Welcome to MG Enthusiast magazine
MG Enthusiast magazine:
Cover Price: £4.60
Frequency: 13 issues a year
Editor: Simon Goldsworthy
Art Editor: Andy Hill

Standard annual subscription rates:
UK: £59.80
Europe: £72.99
USA & Canada: £72.99
Rest of the World: £79.99
MG Enthusiast magazine, the world's best-selling MG magazine, is the long-established make-specific publication dedicated to all MGs, covering all examples from the earliest 14/40s, through the T-Types to the more familiar shapes, including the Midget and the ubiquitous MGB; and not forgetting the more contemporary mid-engined MGF and the ZR/ZS/ZT saloons and hatchbacks.

SUBSCRIBE TO MG ENTHUSIAST AND RECEIVE A FREE MEGUIAR'S TECH WAX PASTE & MICROFIBRE CLOTH WORTH £28.50
Subscribe today and receive these great Meguiar's products to keep your vehicle looking flawless! Enhanced with Hydrophobic Polymer Technology™, NXT Generation Tech Wax 2.0 provides relentless water beading and protection against oxidation, corrosion, UV rays and surface degradation. "Hydrophobic" means water-fearing, and the synthetic polymers in Tech Wax 2.0 increase surface tension, creating a barrier that makes water bead up and glide right off, wash after wash. The result is a dramatically slick fi nish, fewer and taller water beads when the vehicle gets wet and increased protection from dust, dirt and other contaminants. NXT Generation® Tech Wax® 2.0 features a new, technologically advanced formula that glides on and wipes off effortlessly, producing unbelievably deep, vibrant colour and a stunning wet-look shine.

So go on what are you waiting for subscribe to MG Enthusiast magazine today!

Please note that we can only deliver subscription gifts where applicable to addresses within the UK.