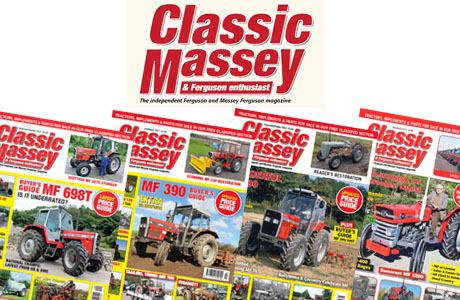 Welcome to Classic Massey & Ferguson Enthusiast magazine.

Classic Massey & Ferguson magazine:
Cover Price: £3.99
Frequency: 6 issues a year
Editor: Peter Love
Art Editor: Phil Silk

Standard annual subscription rates:
UK: £23.94
Europe: £31.99
USA & Canada: £31.99
Rest of the World: £34.99
Classic Massey & Ferguson Enthusiast magazine
is the only independent Ferguson and Massey Ferguson magazine.
Devoted to the red and grey tractor, this magazine features many different models, articles and news to interest all collectors, owners and enthusiasts. Packed with features and wonderful photographs of these tractors, Classic Massey & Ferguson Enthusiast entertains from cover to cover. Building on the reputation of the great Grey Fergie, which saw more than half a million built, Massey Ferguson, with their red tractors, dominated the tractor market in Britain and many other places from the late 1950s to the 1970s. We celebrate this hey-day but also look at more modern and older tractors linked to the Ferguson name. From restorations to recollections and also hundreds of readers free-ads there's something for everyone here.


SUBSCRIBE TO CLASSIC MASSEY & FERGUSON MAGAZINE AND RECEIVE A FREE MULTI-TOOL
This month we are offering UK subscribers a FREE Multi-tool.Packed with everyday useful tools carefully constructed in
a cleverly compact and light frame which has been crafted with everyday use in mind. Keep this in your pocket or on your
key-ring, and you will never be caught in need again. The perfect companion, whatever your lifestyle.
*HIGH GRADE STAINLESS STEEL CONSTRUCTION
*NEEDLE NOSED PLIERS & WIRE CUTTERS
*QUICK RELEASE CLIP *BOTTLE OPENER
*FILE *KNIFE *PHILLIPS SCREWDRIVER
*MEDIUM + SMALL SCREWDRIVER
*CAN OPENER *SAW *AWL
Available in UK sizes 2 -14
UK OFFER ONLY

So go on what are you waiting for, subscribe to Classic Massey & Ferguson Enthusiast magazine today!

Please note that we can only deliver subscription gifts where applicable to addresses within the UK.