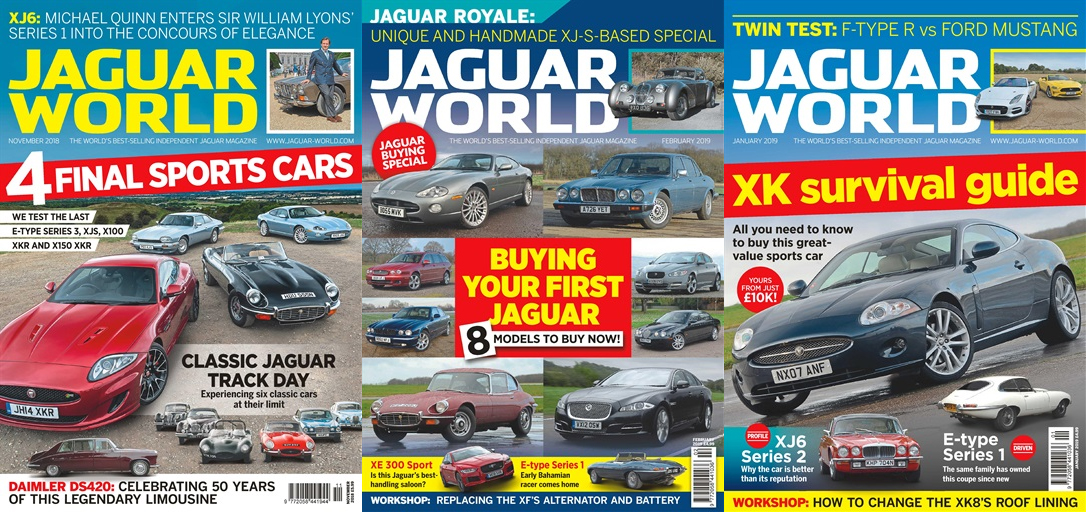 Welcome to Jaguar World magazine.
Jaguar World magazine:
Cover Price: £4.60
Frequency: 13 issues a year
Editor: Paul Walton
Sub Editor: Laura Jones
Executive Editor: Jim Patten
Technical Editor: Ray Ingman

Standard annual subscription rates:
UK: £59.80
Europe: £71.99
USA & Canada: £71.99
Rest of the World: £77.99

Jaguar World magazine is an amazing read, it brings together owners of all types of Jaguars, from the classics such as XKs and E-types through to the dynamic range of modern saloons and sports cars. If you like Jaguars then this is the magazine for you.

SUBSCRIBE TO JAGUAR WORLD MAGAZINE AND RECEIVE A FREE HEADLAMP & INSPECTION TORCH!

Subscribe today and receive the perfect lighting solution for your garage or home workshop FREE. With winter just around the corner we are sure you will be spending more time doing the things that you have avoided whilst the sun has been shining. So if it's a fix on your car or a leak under the sink, these fantastic lighting products have been handpicked to create the perfect lighting solution.
HEADLAMP: The 12 long-life white LED's provide super bright illumination for hours. The multi-angle adjustable head allows for quick and easy adjustment of the light. A soft adjustable elasticated headband provides comfortable and secure hands-free operation. Features four functions: low, medium, high and flashing and includes 3 x AAA batteries.
ZOOM INSPECTION TORCH: The Electralight Zoom Inspection Torch is manufactured with an aluminium body for durability. The COB inspection light on the main body provides 200 Lumens, while the COB Torch provides 100 Lumens and has a zoom function for close-up work.
Supplied with 4 x AAA batteries.

So go on what are you waiting for subscribe to Jaguar World magazine today!

Please note that we can only deliver subscription gifts where applicable to addresses within the UK.