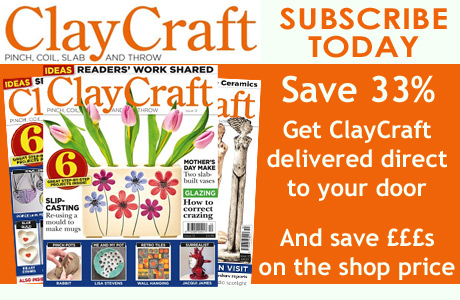 Welcome to ClayCraft Magazine

Cover Price: £4.25
Frequency: 12 issues a year

Standard annual subscription rates:
UK: £51.00
Europe: £64.49
ROW: £70.49
USA / Canada: £64.49

ClayCraft is a new magazine for this growing hobby with each issue including fun, inspirational and challenging pottery projects for you to try at home.

Our editor, Rachel Graham, writes…

Whether you are a student, a hobby potter, or have an established studio, we want you to enjoy reading about this wonderful stuff called clay! What is it about it that's so appealing? Everyone I meet tells me that they find handling clay relaxing and, in lots of cases, therapeutic. Maybe it speaks to an ancient part of our psyche; man has been digging up mud, making it into vessels and putting it into a fire for thousands of years. And now we have refined this to the point where it's both part of our everyday lives, and an inspiring artistic medium. Whatever your level of involvement, whatever you take from it, it's going to be a positive experience, and ClayCraft will add to that, with practical hands-on guides, in-depth features on established, and emerging, potters, and plenty of good advice from our experts. Happy potting!

Identified as the next big thing in the craft market, and boosted by the popularity of the BBC's The Great Pottery Throwdown, the craze for pottery is now booming. ClayCraft is a magazine aimed at ceramics enthusiasts from all levels, including those new to the subject, those at the early stages of learning, ceramics students, or intermediate makers looking to improve their skills and take them to a higher, even professional level as well as people who just love pottery.

ClayCraft offers numerous practical step-by-step projects with each issue at various skill levels from first involvement to inspirational projects for the most advanced reader. In addition there will be a host of smaller project ideas each issue too. ClayCraft will provide essential information on, for example, starting out, clay choice, glazing, firing and kilns, design, tools, product reviews and available courses. Features will also include individual pottery makers, and not just the celebrities in this world, but jobbing potters too.

After 85 years in the clay manufacturing business, and with over 50 years in the service of the studio pottery and education communities, Potclays has become one of the UK's best known supplier companies. Over the years, the business has evolved to become a one-stop shop for all ceramic supplies including clay, glazes, tools, machinery and kilns. Potclays' huge range of products are resourced from all over the world, and they are authorised importers of big names like Shimpo, Brent, L&L Kilns, Rohde, Mayco, Bisque Imports, Giffi n Grip, Mudtools and Xiem Tools. See more at potclays.co.uk. Now when you subscribe to ClayCraft you will receive a voucher giving you £10 off Potclays purchases when you order items with a minimum of £20 spend. So that's as much as a 50% discount off Potclays purchases. And you will receive a ClayCraft subscription at 20% off of the shop price when you pay by annual direct debit payments





SUBSCRIBE TO CLAYCRAFT, SAVE 20% PLUS RECEIVE A FREE TEAPOT BOOK

THE TEAPOT BOOK, by Steve Woodhead will capture the imagination of makers, collectors, and all other fans of the teapot. Covering the essential making methods such as throwing, slab-building, pressmoulding, slipcasting and more. It also looks at the aesthetic and functional aspects of teapot design. A lovely gallery of teapots and the works of artists, covering both functional and non-functional teapots, make this a useful asset for the contemporary collector

SUBSCRIBE TO CLAYCRAFT MAGAZINE...
Never miss an issue
Free delivery to your door
Save money on the shop price
No quibble refund guarantee on any unmailed copies
Free membership to our Book Club, where you save 25% off all listed titles

So go on what are you waiting for, subscribe to ClayCraft magazine today!