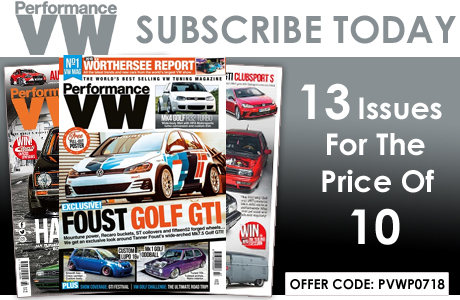 Welcome to Performance VW

Cover Price: £4.95
Frequency: 13 issues a year

Standard annual subscription rates:
UK: £64.35
Europe: £78.00
USA / Canada: £78.00
Rest of the World: £84.00

The World's best loved magazine for the modified Volkswagen scene

If you're in to modified VWs then you need to be into Performance VW, the only publication that delivers hardcore VW junkies a guaranteed Dub hit on a monthly basis.

Performance VW has been at the forefront of modified Volkswagens for over a decade now and has been instrumental in shaping the scene into the most innovative of its kind. It really is the only magazine that caters for true Dub enthusiasts.

Whether you're after debuts on the world's fastest, finest and most fun VAG metal, or simply want inspiration from the quirkiest daily drivers, then there is only one place to be: Performance VW Magazine.
---
FREE MEGUIAR'S TECH WAX PASTE WORTH £22.50
Subscribe today and receive thIS great Meguiar's products to keep your vehicle looking flawless! Enhanced with Hydrophobic Polymer Technology™, NXT Generation Tech Wax 2.0 provides relentless water beading and protection against oxidation, corrosion, UV rays and surface degradation. "Hydrophobic" means water-fearing, and the synthetic polymers in Tech Wax 2.0 increase surface tension, creating a barrier that makes water bead up and glide right off, wash after wash. The result is a dramatically slick fi nish, fewer and taller water beads when the vehicle gets wet and increased protection from dust, dirt and other contaminants. NXT Generation® Tech Wax® 2.0 features a new, technologically advanced formula that glides on and wipes off effortlessly, producing unbelievably deep, vibrant colour and a stunning wet-look shine.

---
SUBSCRIBE TO PERFORMANCE VW MAGAZINE...

Never miss an issue
Free delivery to your door
Save money on the shop price
Free membership to our Book Club, where you save 25% off all listed titles

Be the first to read each issue and subscribe now. Your magazines will be sent direct to your door before they go on sale in the shops.

*Please note that we can only deliver subscription gifts when offered as part of a subscription to addresses within the UK.