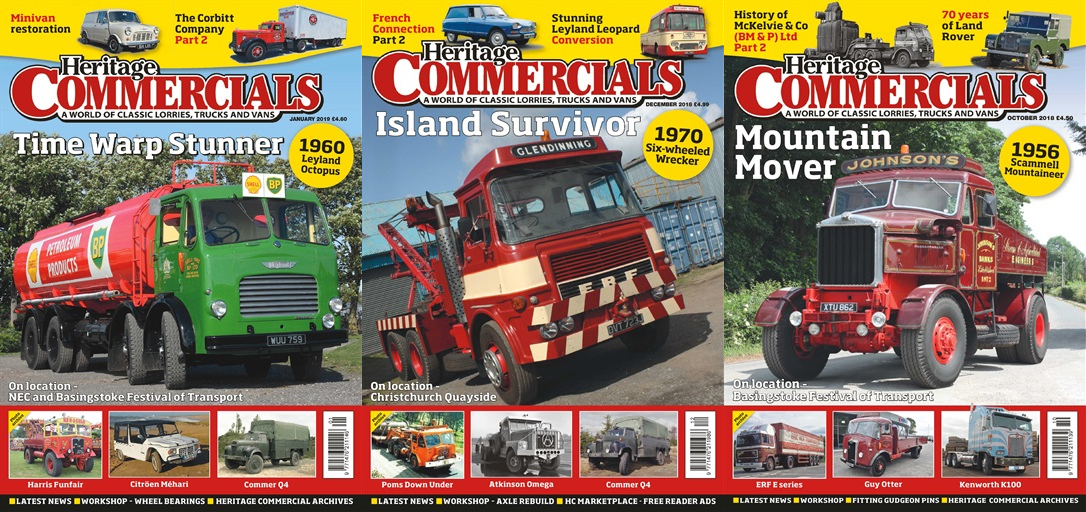 Welcome to Heritage Commericals magazine
Custom Car magazine:
Cover Price: £4.25
Frequency: 12 issues a year
Editor in cheif:
Features Eitor:

Standard annual subscription rates:
UK: £51.00
Europe: £64.49
USA & Canada: £64.49
Rest of the World: £70.49
Heritage Commercials magazine is Britain's brightest full colour magazine for classic and vintage commercial vehicle enthusiasts. Heritage Commercials magazine celebrates the days when roads were still quiet and lorry driving was fun as well as hard work.

SUBSCRIBE TO HERITAGE COMMERCIALS MAGAZINE AND RECEIVE 2 FREE BOOKS WORTH £17

COMMERCIAL CLASSICS This book presents the very best of the classic commercial scene. Looking back over the last 50 years at the development of commercial rallies, detailing different shows, road runs and other events from around the country.

GREATBRITISH TRUCK RESCUE Presenting a selection of fine trucks from the 1930s to the early 1960s that would not have survived had it not been for the dedication of their owners.

THE GLORY DAYS OF HEAVY HAULAGE Relive the memories of yesteryear, through a feast of monster trucks such as Scammells, Antars, Pacifics, Diamond Ts, the elusive Rotinoff and a brace of lesser known foreigners.

TRUCKING DOWN MEMORY LANE 100s of nostalgic photos of trucks and their drivers at work in the UK, mostly during the 50s,60s and 70s. A real treat for vintage lorry enthusiasts.

PIONEERS OF HEAVY HAULAGE John Wynn tells the story of Wynns and a life spent in the heavy haulage business, highlighting their incredible achievements of the past

GET YOURS FREE WHEN YOU SUBSCRIBE TODAY!

Please note that we can only deliver subscription gifts where applicable to addresses within the UK.