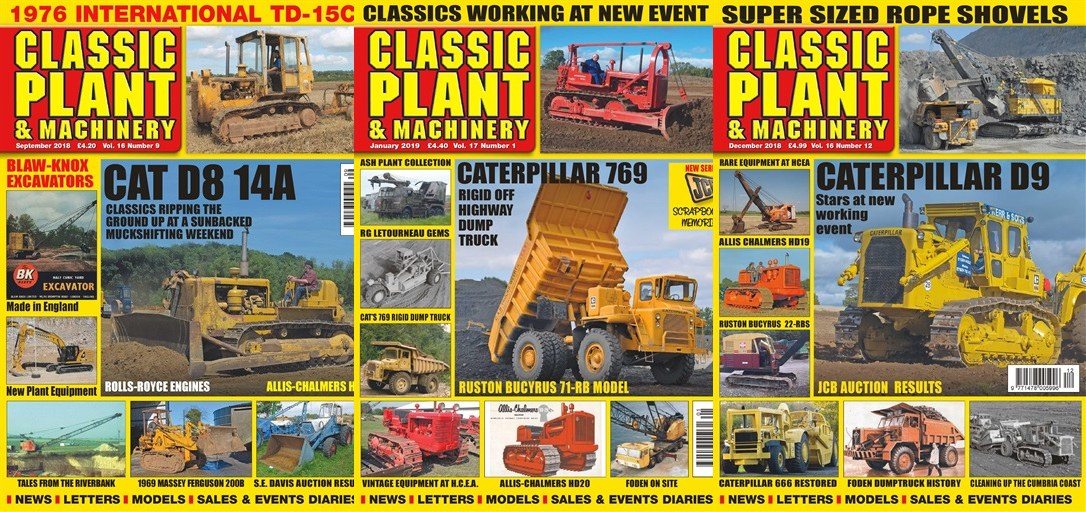 Welcome to Classic Plant & Machinery magazine.


Classic Plant & Machinery magazine:
Cover Price: £3.99
Frequency: 12 issues a year
Editor: Peter Love
Managing Editor: George Bowstead

Standard annual subscription rates:
UK: £47.88
Europe: £62.99
USA & Canada: £62.99
Rest of the World: £68.99
Classic Plant & Machinery magazine covers construction, mining, road building, where would we be now without the pioneering development of industrial machinery from the likes of Bucyrus, Caterpillar, JCB, and many other firms, including the specialist conversion companies that saw the need and did the deed. We cover at a wealth of heavy machinery, as it was, in preservation and still at work now. You may even want to buy something from the reader free-ad pages!
SUBSCRIBE TO CLASSIC PLANT & MACHINERY AND RECEIVE FREE BOILER SUIT OVERALLS
This month we are offering new subscribers one of these fantastic boiler suit overalls absolutely FREE. A traditional, functional garment that offers comfort and rugged durability, keeping your under clothes clean whilst working on any of those mucky jobs.
FEATURES:
210GSM POLYESTER/COTTON
2STUDDED POCKETS ON BREAST
SINGLE PIECE BACK
CONCEALED PRESS STUDS
1 BACK POCKET
ELASTICATED BACK
AVAILABLE IN SIZES: M-XXL

So go on what are you waiting for, subscribe Classic Plant & Machinery magazine today!

Please note that we can only deliver subscription gifts where applicable to addresses within the UK.