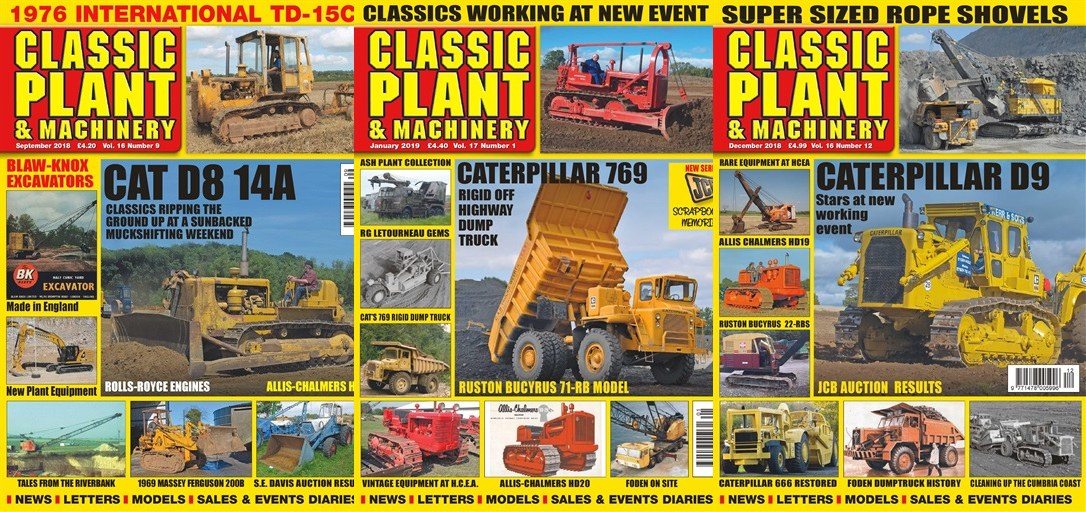 Welcome to Classic Plant & Machinery magazine.


Classic Plant & Machinery magazine:
Cover Price: £3.99
Frequency: 12 issues a year
Editor: Peter Love
Managing Editor: George Bowstead

Standard annual subscription rates:
UK: £47.88
Europe: £62.99
USA & Canada: £62.99
Rest of the World: £68.99
Classic Plant & Machinery magazine covers construction, mining, road building, where would we be now without the pioneering development of industrial machinery from the likes of Bucyrus, Caterpillar, JCB, and many other firms, including the specialist conversion companies that saw the need and did the deed. We cover at a wealth of heavy machinery, as it was, in preservation and still at work now. You may even want to buy something from the reader free-ad pages!
SUBSCRIBE TO CLASSIC PLANT & MACHINERY AND RECEIVE FREE WORKTOUGH CHUKKA BOOTS WORTH £21.95
This month we are offering UK subscribers a fantastic FREE pair of WorkTough Chukka boots worth £21.95. These fantastic safety boots are smart yet highly durable. They benefit from steel toe-caps and a padded tongue for all round comfort. It is a classically styled boot suitable for all trades, the ultimate in quality and comfort and with solid construction, they are made to last. Get yours FREE when you subscribe today!

· Black Leather Steel Toe Boot with Padded Bellows and Tongue
· Internal Steel Toe (200 Joules) to EN345 S1
· Outer Material: Leather
· Inner Material: Fabric
· Sole: manmade
· Closure: Lace-Up
· Shoe Width: Regular
· Antistatic Dual Density Polyurethane Sole
Available in UK sizes 2 -14
UK OFFER ONLY



So go on what are you waiting for, subscribe Classic Plant & Machinery magazine today!

Please note that we can only deliver subscription gifts where applicable to addresses within the UK.