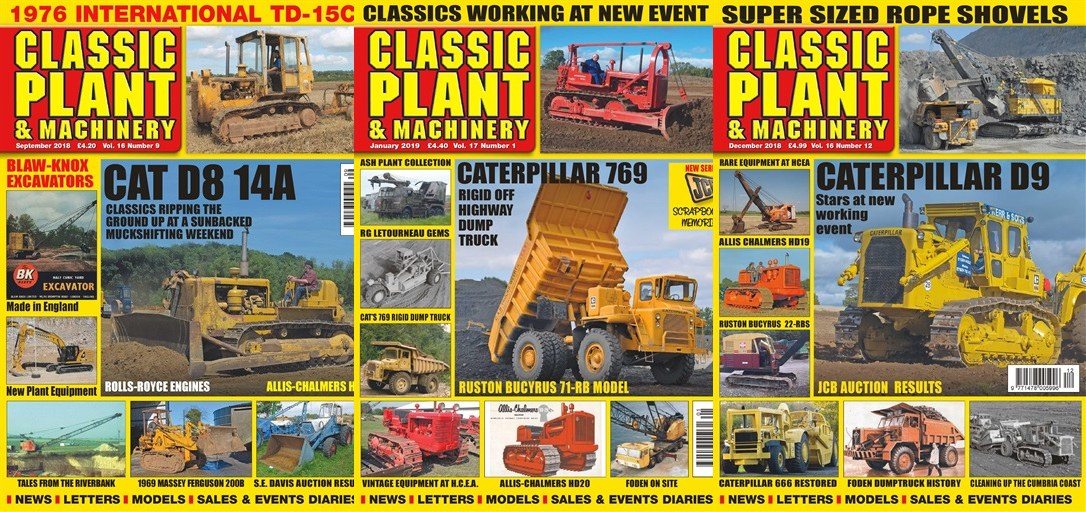 Welcome to Classic Plant & Machinery magazine.


Classic Plant & Machinery magazine:
Cover Price: £3.99
Frequency: 12 issues a year
Editor: Peter Love
Managing Editor: George Bowstead

Standard annual subscription rates:
UK: £47.88
Europe: £62.99
USA & Canada: £62.99
Rest of the World: £68.99
Classic Plant & Machinery magazine covers construction, mining, road building, where would we be now without the pioneering development of industrial machinery from the likes of Bucyrus, Caterpillar, JCB, and many other firms, including the specialist conversion companies that saw the need and did the deed. We cover at a wealth of heavy machinery, as it was, in preservation and still at work now. You may even want to buy something from the reader free-ad pages!
SUBSCRIBE TO CLASSIC PLANT & MACHINERY AND RECEIVE FREE MULTI-TOOL
This month we are offering UK subscribers a FREE Multi-tool.Packed with everyday useful tools carefully constructed in
a cleverly compact and light frame which has been crafted with everyday use in mind. Keep this in your pocket or on your
key-ring, and you will never be caught in need again. The perfect companion, whatever your lifestyle.
*HIGH GRADE STAINLESS STEEL CONSTRUCTION
*NEEDLE NOSED PLIERS & WIRE CUTTERS
*QUICK RELEASE CLIP *BOTTLE OPENER
*FILE *KNIFE *PHILLIPS SCREWDRIVER
*MEDIUM + SMALL SCREWDRIVER
*CAN OPENER *SAW *AWL
UK OFFER ONLY



So go on what are you waiting for, subscribe Classic Plant & Machinery magazine today!

Please note that we can only deliver subscription gifts where applicable to addresses within the UK.