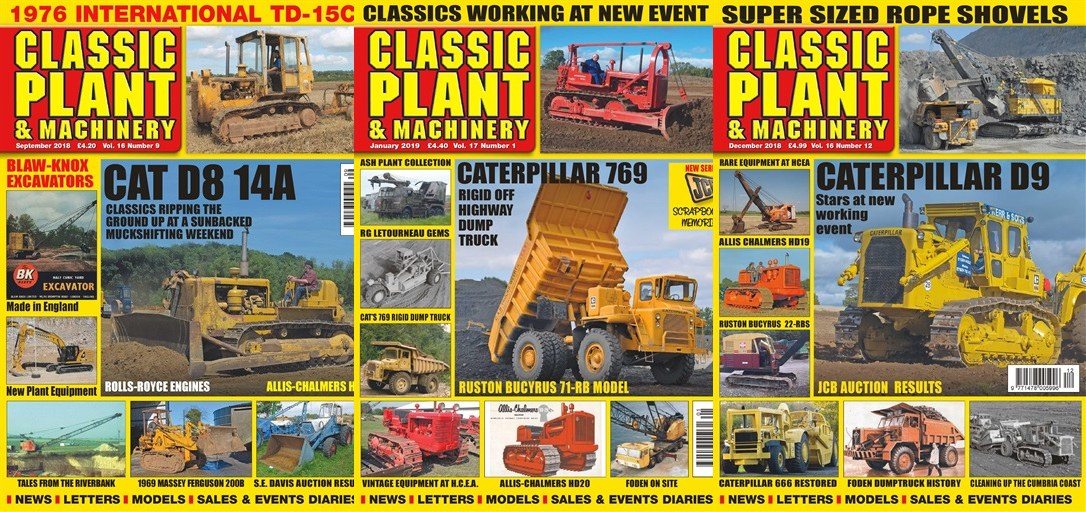 Welcome to Classic Plant & Machinery magazine.


Classic Plant & Machinery magazine:
Cover Price: £3.99
Frequency: 12 issues a year
Editor: Peter Love
Managing Editor: George Bowstead

Standard annual subscription rates:
UK: £47.88
Europe: £62.99
USA & Canada: £62.99
Rest of the World: £68.99
Classic Plant & Machinery magazine covers construction, mining, road building, where would we be now without the pioneering development of industrial machinery from the likes of Bucyrus, Caterpillar, JCB, and many other firms, including the specialist conversion companies that saw the need and did the deed. We cover at a wealth of heavy machinery, as it was, in preservation and still at work now. You may even want to buy something from the reader free-ad pages!
SUBSCRIBE TO CLASSIC PLANT & MACHINERY AND SAVE 20% PLUS FREE TRUE UTILITY SCARAB MULTI TOOL
This month we are offering a FREE True Utility Scarab. The Scarab is a compact and strong stainless steel multi-tool that includes serrated needlenosed pliers, wire strippers, Phillips screwdriver, knife, file and flat screwdriver. Complete with a removable key ring, crafted to fold into its ergonomically shaped folding handles.
FEATURES:
Phillips screwdriver
Knife
File
Flat screwdriver
L50 x W35 x D7mm
Weight: 46g
Serrated needle nosed pliers and wire strippers
Stainless steel construction


Be the first to read each issue and subscribe now. Your magazines will be sent direct to your door before they go on sale in the shops.

Please note that subscription offers with free gifts are only available for new subscribers and for despatch to UK addresses