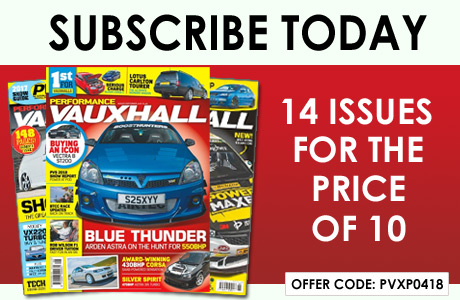 PERFORMANCE VAUXHALL MAGAZINE

A subscription to Performance Vauxhall magazine will make the perfect Christmas gift!

To guarantee the first issue won't be received before Christmas, please choose to start your subscription with the issue named:
FEBRUARY /MARCH 2019

Performance Vauxhall magazine:
Cover Price: £4.99
Frequency: Published every 8 weeks

Standard subscription rates based on 7 issues:
UK: £34.93
Europe: £42
USA & Canada: £42
Rest of the World: £45
Performance Vauxhall is the world's only magazine dedicated to showcasing tuned Vauxhall and Opel cars. Each issue is packed full of great Griffins and Blitz-badged belters, expert technical advice, event reports, motorsport news, product reviews, 'dream drives' and exclusive interviews with movers and shakers on the Vauxhall/Opel scene past and present.
In addition to this exciting content, Performance Vauxhall shines a light on spectacular restomod projects that promise to end with the unveiling of fantastic feature cars. Be it old-school cool or the latest VXR, Performance Vauxhall has it covered!
Take advantage of our discounted subscription deals and receive Performance Vauxhall before it hits newsstands. Each issue will be delivered direct to your door in advance of the official 'on sale' date.

SUBSCRIBE TO PERFORMANCE VAUXHALL...

Never miss an issue
Free delivery to your door
Save money on the shop price
Free membership to our Book Club, where you save 25% off all listed titles

Editors Email: pv.ed@kelsey.co.uk
Subscription Email: subs@kelsey.co.uk

Be the first to read each issue and subscribe now. Your magazines will be sent direct to your door before they go on sale in the shops