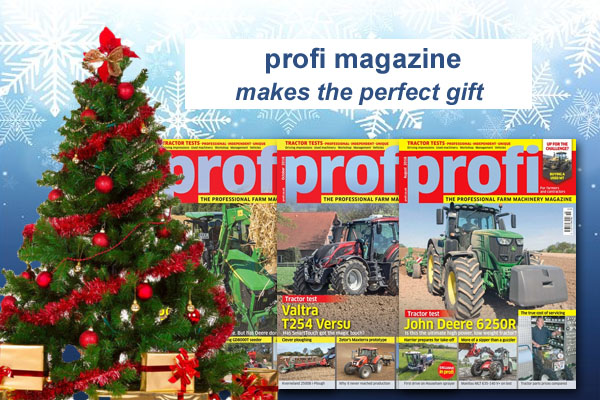 A subscription to profi magazine will make the perfect Christmas gift! To guarantee the first issue won't be received before Christmas, please choose to start your subscription with the issue named: FEBRUARY 2019.
Cover Price: £4.90
Frequency: 13 issues a year
Standard annual subscription rates:
UK: £63.70
Europe: £77.00
USA & Canada: £77.00
Rest of the World: £85.00
If you are interested in tractors and farm machinery then profi international is the magazine for you with its in-depth technical articles, keeping you up to date on all the latest farm machinery news.
profi magazine is the only monthly magazine assessing, scientifically testing, comparing and advising on tractors, machinery and ancillary equipment. profi also advises on buying used equipment, and includes a wealth of practical and technical features to help readers get more from their existing machinery. A subscription to profi delivers you 13 issues per year.

SUBSCRIBE TO PROFI MAGAZINE...
Never miss an issue
Free delivery to your door
Save money on the shop price
No quibble refund guarantee on any unmailed copies
Free membership to our Book Club, where you save 25% off all listed titles
Be the first to read each issue and subscribe now. Your magazines will be sent direct to your door before the magazine goes on sale in the shops.