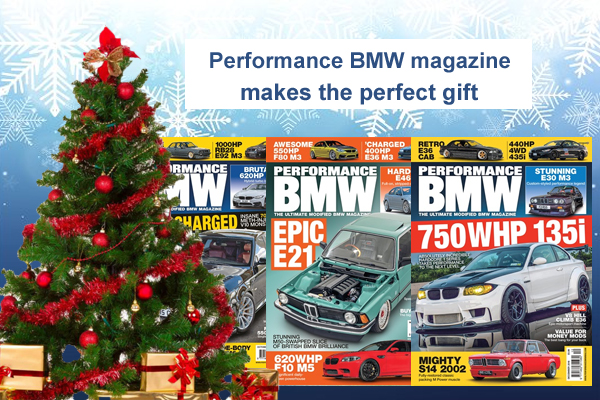 A subscription to Performance BMW magazine will make the perfect Christmas gift! To guarantee the first issue won't be received before Christmas, please choose to start your subscription with the issue named: FEBRUARY 2019

Cover Price: £4.99
Frequency: 13 issues a year

Standard annual subscription rates:
UK: £64.87
Europe: £78
USA / Canada: £78
Rest of the World: £85

Crammed from cover-to-cover with the world's most exclusive show, daily driven and balls-out performance orientated machines, if it's from the Munich stable and got something unique about it, you will be sure to find it within Performance BMW.

As well as informative, interesting and entertaining features, you'll also find the latest BMW news and products, road tests, extensive global show reports and in-depth technical articles. There has never been a better time to take out a subscription to Performance BMW.

SUBSCRIBE TO PERFORMANCE BMW MAGAZINE ...
Never miss an issue
Free delivery to your door
Save money on the shop price
Free membership to our Book Club, where you save 25% off all listed titles

Editor's email: pbmw.ed@kelsey.co.uk
Subscription queries email : subs@kelsey.co.uk

Be the first to read each issue and subscribe now. Your magazines will be sent direct to your door before they go on sale in the shops.