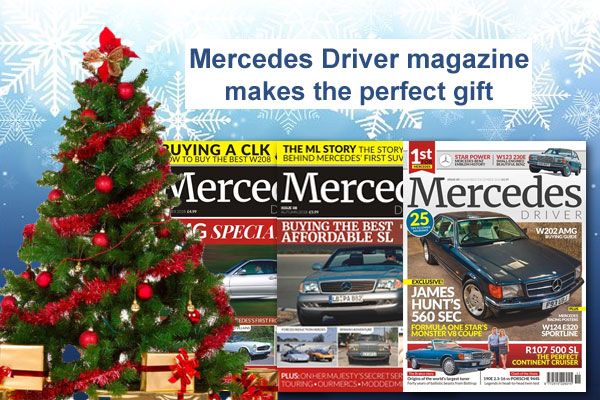 MERCEDES DRIVER MAGAZINE

A subscription to Mercedes Driver magazine will make the perfect Christmas gift!

To guarantee the first issue won't be received before Christmas, please choose to start your subscription with the issue named:
MARCH/APRIL 2019




£4.99 cover price
Published every 8 weeks

Standard annual subscription rates (based on 7 issues):
UK: £34.93
Europe: £42
USA & Canada: £42
Rest of theWorld: £45

Mercedes Driver magazine is a premium publication, launched in February 2018, devoted to real owners and enthusiasts of this prestigious German car brand. Perfect-bound with good quality paper and a glossy cover.

Mercedes Driver magazine reaches out to owners of classic models from the Pagoda to the SL and everything else in between. Covering the most coveted models with detailed and informative features, written by people who are knowledgeable and passionate about the marque. There is a comprehensive blend of owners' features, practical advice, drive stories and definitive guidance to buying, owning, maintaining and modifying popular Mercedes models.

So for the most in-depth and authoritative round up of all the major Mercedes cars, Mercedes Driver magazine is the No1 choice for fans of this iconic brand.

SUBSCRIBE TO MERCEDES DRIVER MAGAZINE...
Never miss an issue
Free delivery to your door
Save money on the shop price
Free membership to our Book Club, where you save 25% off all listed titles

Editors Email: md.ed@kelsey.co.uk
Subscription Email: subs@kelsey.co.uk

Be the first to read each issue and subscribe now. Your magazines will be sent direct to your door before they go on sale in the shops.