Promotions & Offers
The promotional offers are only for active subscribers. Please login if you're an active subscriber. Otherwise, subscribe to one of our publications.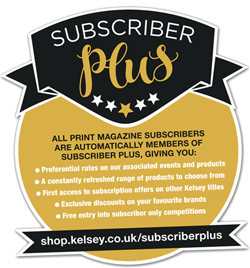 We've got some fantastic
news for you.
Your magazine subscription now has even more to offer, with the launch of the Kelsey Media
Subscriber Plus
scheme.
Subscriber Plus is exclusively for subscribers like you and is included FREE with your subscription. It's our way of saying 'thank you' for your loyalty. Each month we will have an assortment of money saving deals brought to you by the brands we know you love! Save yourself £££'s on items that we know will already be on your shopping list.
So simply log into your account today to see how we could be saving you money! You will need to know your account number to gain access, if you require assistance please contact 0333 043 9848 and one of our customer service agents will be happy to help.
The Subscriber Plus scheme is available for all active print subscribers of magazines published by Kelsey Media, free of charge. Currently this service is not available to digital magazine subscribers. Only the recipient of the subscription is entitled to access the dedicated Subscriber Plus area. While most offers are only available in the UK, some will be open to subscribers based overseas please check offers for full T&C's.
So go on what are you waiting for? Login to your subscriber account to start saving money on various exclusive discounts on products and services , hand picked for you.


Our partners list changes often, but here is a small selection below to wet your whistle...