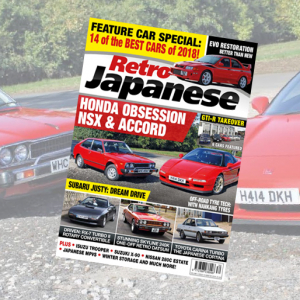 Retro Japanese Magazine Special Issue 2018
BOOKS
Ref: RJPSPEC2018
Retro Japanese Magazine

Special Issue 2018

This special 132-page Bonus Issue of Retro Japanese contains 14 of our favourite cars of 2018, including a Honda NSX and Accord Mk1 owned by one super-fan, a restored Mitsubishi Evo VI, a one-off Datsun Skyline 240K, a Toyota Carina Turbo and a Mazda RX-7 Turbo II Convertible, plus a special six-car Nissan Sunny/Pulsar GTI-R feature!
Proving we love anything Japanese, there is also coverage of the Suzuki X-90, Toyota Tercel and Isuzu Trooper as well as a feature on protecting your Japanese classic over winter.

Price quoted is for delivery to any UK address. We only charge £1 for postage to overseas addresses. This will be added during the checkout process when you select a county outside of the UK.
View delivery options