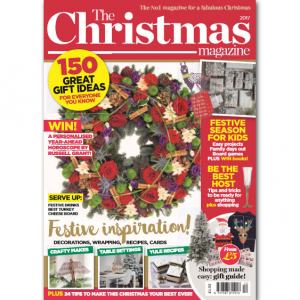 The Christmas Magazine 2017
BOOKS
Ref: CMS01012017
The Christmas Magazine 2017
Get your copy delivered to your door
Here at The Christmas Magazine, we think it's never too early to start planning for the big day – the more you get done now, the more you can relax and enjoy yourself when the holiday comes!

First things first, we have compiled 24 tips to get ready for Christmas this year – start ticking things off now and you can't go wrong. We've also trawled the shops to find the very best crackers, advent calendars and Christmas jumpers so you can start your shopping list for those extras that make the day go with a bang.

Of course, it's not just about shopping and decorating; Christmas gives us the perfect excuse to drop everything and have some fun, so we've got lots of craft projects, ideas for days out and a round-up of all the best family games you can play over the festive season. We think we've got it covered – and now you will have too!

Merry Christmas to all our readers!
View delivery options