VW Campervans Bookazine - The Ultimate Guide
BOOKS
Ref: BZVWCAMP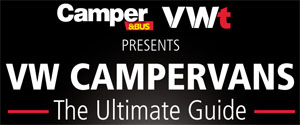 • FEATURE VANS, BUYING GUIDES AND RESTORATION PROJECTS •

VW Campervans: The Ultimate Guide - Collectors' Edition
What's in a name? Old hippy Bus, surf wagon, hipster's life-style accessory – you name it - there are probably as many different names for the humble VW Transporter as Volkswagen produced. And the truly bizarre thing is, no two are quite the same. Sure they may have rolled off the production line together, but they are a vehicle of such tremendous character that each one takes on a life of its own from the moment it leaves the factory.
From the plain old VW Type 2, Split Screen and Bay Windows through to the T3 and subsequently, the T4, T5 and today's T6, whichever variant you're into, you can be sure it has been converted for every task you could possibly need a vehicle for – from people carriers to fire engines and ambulances, from army radio Buses to Campervans – the VW Transporter is a true jack of all trades.
So it seems only fitting to celebrate its most popular conversion with this bookazine, covering every generation of the world's most beloved Campervan and arming the reader with the necessary knowledge to go out and buy one, fix it when it breaks and modify it to their own tastes.
With a VW Campervan it's not so much about the destination as it is the journey, so sit back and enjoy the ride. It's been one heck of a trip.

Price quoted includes delivery to all UK addresses
View delivery options