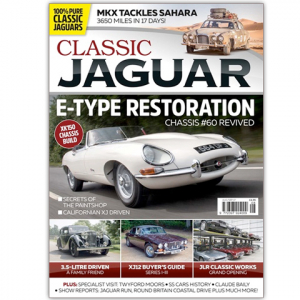 Classic Jaguar - Aug/Sep 2017
£4.99
The price is for UK and Overseas price will be higher. For Overseas prices click
here
Europe
£5.99
North America
£5.99
Rest of the World
£5.99
Classic Jaguar
Issue #6 - Aug/Sep17
The editor writes:
Crivens, these bi-monthly issues certainly come around quickly. It's keeping us on our toes at Classic Jaguar HQ and we hope you're enjoying getting even more classic Jaguar action.

There are so many highlights this time around that it's difficult to know where to start. Certainly, Marko Fleming's remarkable adventure to the Sahara in his MkX V12 is a pretty fine place to begin. A truly remarkable undertaking in a car that Marko will admit was some way from perfection! Who doesn't love a driving adventure?

We were also fortunate to be invited to take a look around Jaguar Land Rover's new Classic Works building, near Coventry. This is a truly astonishing undertaking, massive in scale, which it needs to be with over 400 cars to keep in stock, plus restorations, servicing and much more. Look out for public tours from September this year.

I particularly enjoyed the chance to experience a truly gorgeous 3.5-Litre. What a thoroughly charming machine this was. Find out its fascinating story on page 28. This formidable speed machine of its day might feel more gentle and relaxing by modern standards, but was still an absolute pleasure.

We also take a very close look at the restoration of E-Type number 60 by Classic Motor Cars. It truly is staggering how much work goes into refreshing a tired car. Wonderful stuff. If you'd like to join us for a tour of CMC's operations, check out the feature on page 10. Numbers are limited, but it would be good to meet you if you can make it.

As ever, please do drop us a line with your thoughts on the magazine. We enjoy receiving correspondence from all around the world, which is why we've invited the Jaguar Clubs of North America to tell us a bit more about themselves on page 68. If you run a club, whatever the country, why not tell us about yourselves?
Ian Seabrook
cj.ed@kelsey.co.uk