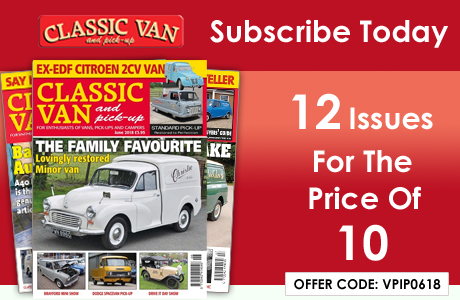 Welcome to Classic Van & Pick-up magazine
Classic Van & Piack-up magazine:
Cover Price: £3.60
Frequency: 12 issues a year
Editor: Ted Connolly
The Classic Van & Pickup Team:
Brian Culpan, Leslie Weir, Martyn Barnwell & Tom Buckle

Standard annual subscription rates:
UK: £43.20
Europe: £60.99
USA & Canada: £60.99
Rest of the World: £66.99
Classic Van & Pick-up magazine is the only magazine in the UK focused purely on light commercial vehicles. Whether it be vans, pickups or campers this is the publication with the best selection of small commercials. Featuring the popular classics such as the Morris Minor van, Ford Transit, Bedford J-Type, Mini van and many more, Classic Van & Pick-up magazine is the best source of great readers' examples, exclusive archive material and black & white nostalgia plus show reports and the latest news. It really is the best monthly magazine for any enthusiast of vans, pick-ups, campers and other light commercial vehicles.
So go on what are you waiting for, subscribe Classic Van & Pick-up magazine today!

Please note that we can only deliver subscription gifts where applicable to addresses within the UK.
Other customers also bought ...