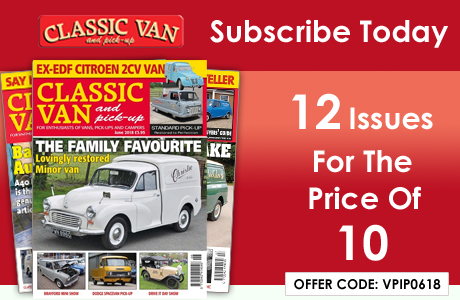 Welcome to Classic Van & Pick-up magazine
Classic Van & Piack-up magazine:
Cover Price: £3.60
Frequency: 12 issues a year
Editor: Ted Connolly
The Classic Van & Pickup Team:
Brian Culpan, Leslie Weir, Martyn Barnwell & Tom Buckle

Standard annual subscription rates:
UK: £43.20
Europe: £60.99
USA & Canada: £60.99
Rest of the World: £66.99
Classic Van & Pick-up magazine is the only magazine in the UK focused purely on light commercial vehicles. Whether it be vans, pickups or campers this is the publication with the best selection of small commercials. Featuring the popular classics such as the Morris Minor van, Ford Transit, Bedford J-Type, Mini van and many more, Classic Van & Pick-up magazine is the best source of great readers' examples, exclusive archive material and black & white nostalgia plus show reports and the latest news. It really is the best monthly magazine for any enthusiast of vans, pick-ups, campers and other light commercial vehicles.

SUBSCRIBE TO CLASSIC VAN & PICK-UP AND RECEIVE TWO FREE OXFORD DIE CAST MODELS

This month we are offering new subscribers two diecast models, made by Oxford Diescast Limited, who were founded in 1993 and have since become a leading British company.These highly detailed models have fascinated VW enthusiasts around the world
1:76 scale
Coastguard Anglia Van: The last Anglia, the 105E, appeared in 1959 and when it ceased production in 1967 over 1,000,000 units had been produced. With a top speed of 73.8 mph it could accelerate from 0-60 mph in 26.9 seconds. Variants included an estate and a panel van and is shown here in Blue and Yellow coastguard colours.
British Coal Mini Van: The Mini proved to be versatile over the years. It has been seen as a saloon, estate car, pick up van, cabriolet and also a very popular rally car.

So go on what are you waiting for, subscribe Classic Van & Pick-up magazine today!

Please note that we can only deliver subscription gifts where applicable to addresses within the UK.
Other customers also bought ...