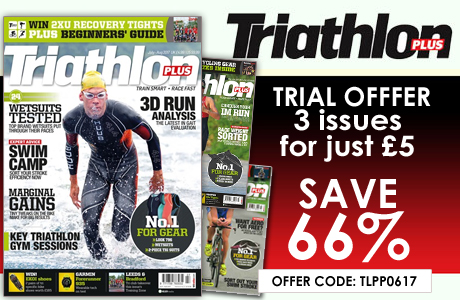 Welcome to Triathlon Plus
magazine

Triathlon Plus magazine:
Cover Price: £4.99
Frequency: every 6 weeks
Editor: Debbi Marco
Art Editor: Lee Caple
Production Editor: Amber Evans

Standard annual subscription rates:
UK: £39.92
Europe: £48.99
USA & Canada: £48.99
Rest of the World: £52.99
Triathlon Plus magazine
- At last a magazine that really reflects the excitement of triathlon!
Whatever level you're at, Triathlon Plus will help you reach your goals by bringing you in-depth training advice from the world's leading athletes.
Triathlon Plus is the magazine for people who love the energy and excitement of a multi-disciplinary sport. If you're passionate about taking part and want to improve your personal best then it's definitely the magazine for you.
The great thing about Triathlon Plus is that it's crafted by triathletes for triathletes. We understand what triathlon is all about because we've been there and that enables us to bring you unrivalled advice and insight into the sport.
SUBSCRIBE TO TRIATHLON PLUS AND RECEIVE YOUR FIRST 3 ISSUES FOR £5 SAVING 66%!
So go on what are you waiting for
subscribe to Triathlon Plus magazine
today!
Please note that we can only deliver subscription gifts where applicable to addresses within the UK.