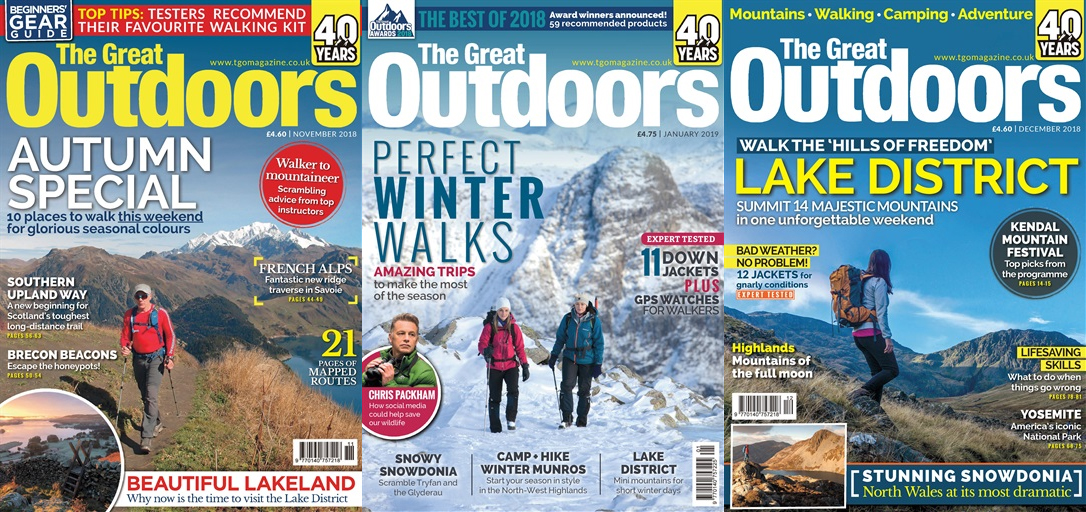 Welcome to The Great Outdoors Magazine
The Great Outdoors magazine:
Cover Price: £4.50
Frequency: 13 issues a year
Editor: Emily Rodway
Staff Writer: Will Renwick

Standard annual subscription rates:
UK: £58.50
Europe: £71.49
USA & Canada: £71.49
Rest of the World: £78.99
The Great Outdoors magazine was created by hillwalkers for hillwalkers, providing ideas, inspiration and the best gear reviews in the industry for almost 40 years. It's packed full of stunning photography, top-class writing and brilliant walking routes along with authoritative gear reviews from the country's most experienced team of testers and essential skills advice from highly qualified outdoor instructors.

SUBSCRIBE TO THE GREAT OUTDOORS AND RECEIVE FREE CELESTRON BINOCULARS
These powerful 8x magnification binoculars are the perfect versatile companion to all your other 'must have' gadgets. Compact enough to take anywhere and supplied with a case and cleaning cloth; this smart little binocular will bring you closer to events, wildlife and stunning scenery. You need never miss a thing, with these smartly designed Celestron Prism Binoculars!

FEATURES:
Multi-coated optics increase light transmission resulting in brighter and sharper images with high contrast levels
Stylish rubber covered aluminum body protects from rough handling
Ergonomic thumb indents and finger ridges for extra non-slip comfort and ease of use
Water resistant
Soft carrying case
Binocular straps

SPECIFICATIONS:
Aperture: 21mm
Magnification (x): 8x
Angular Field of View: 7.4°
Exit Pupil (mm): 2.6 mm
Eye Relief (mm): 11 mm
IPD Max: 72 mm
IPD Min: 58 mm
Optical Coatings: Multi-Coated
Weight (oz): 8 oz (227 g)
Prism Glass (Type): BK7
Relative Brightness: 6.76


SUBSCRIBE TO THE GREAT OUTDOORS...
Never miss an issue
Free delivery to your door
Save money on the shop price
Free membership to our Book Club, where you save 25% off all listed titles

So go on what are you waiting for, subscribe The Great Outdoors magazine today!

Please note that we can only deliver subscription gifts where applicable to addresses within the UK.

Other customers also bought ...