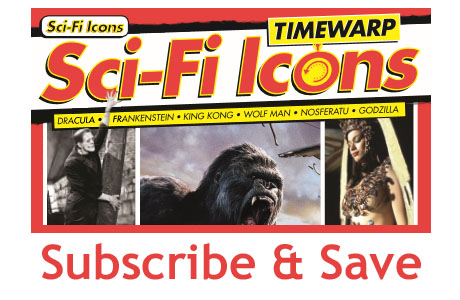 Welcome to Sci-Fi Icons Film & Timewarp Bookazine

Buying as a Christmas Present? Make sure you choose to start your Subscription with the
ISSUE 005
to guarantee no Magazines are sent before Christmas


Cover Price: £7.95
Frequency: 6 issues a year

Standard annual bokkazine subscription rates:
UK: £47.70
Europe: £59.90
USA & Canada: £59.90
Rest of the World: £65.90

Sci-Fi Icons Timewarp bookazine travels back in time to the days of retro sci-fi, fantasy and horror, and gives exclusive behind-the-scenes access to your favourite genre offerings, exploring where they came from and what they went on to inspire, and featuring interviews with the casts and crews of all the best blasts from the past.

What is a bookazine? A bookazine is the size of a magazine, but has the benefits of having little or no adverts. Each issue of Sci-Fi Icons contains 100, jammed packed with content. Each copy also comes with a free poster of the beautifully designed front cover.

What's coming up in the series...

ISSUE 1 – TIMEWARP (on sale now)
Alien

ISSUE 2 – TIMEWARP (on sale now)
Greatest monster movies
ISSUE 3 – TIMEWARP (on sale 25 August)
Stephen King

ISSUE 4 – TIMEWARP (on sale 27 October)
Greatest Slasher films

ISSUE 5 – TIMEWARP (on sale 29 December)
Greatest sci-fi heroes


If you like this publication you will also love our sister title Sci-Fi Icons: TV & Film.





Sci-Fi Icons: TV & Film combines everything you need to know about the hottest genre topics, from Batman and Wonder Woman to the X-Men and Blade Runner, all in one bookazine. Featuring exclusive interviews, investigations and more, each themed issue puts one subject under the microscope and takes a look at hit films and TV shows that came before and after.

CLICK HERE TO MIND OUT MORE AND ORDER Sci-Fi Icons: TV & Film

Never miss an issue
Free delivery to your door
Save money on the shop price
Free membership to our Book Club, where you save 25% off all listed titles

So go on what are you waiting for, subscribe to Sci-Fi IconsTimewarp bookazine today!