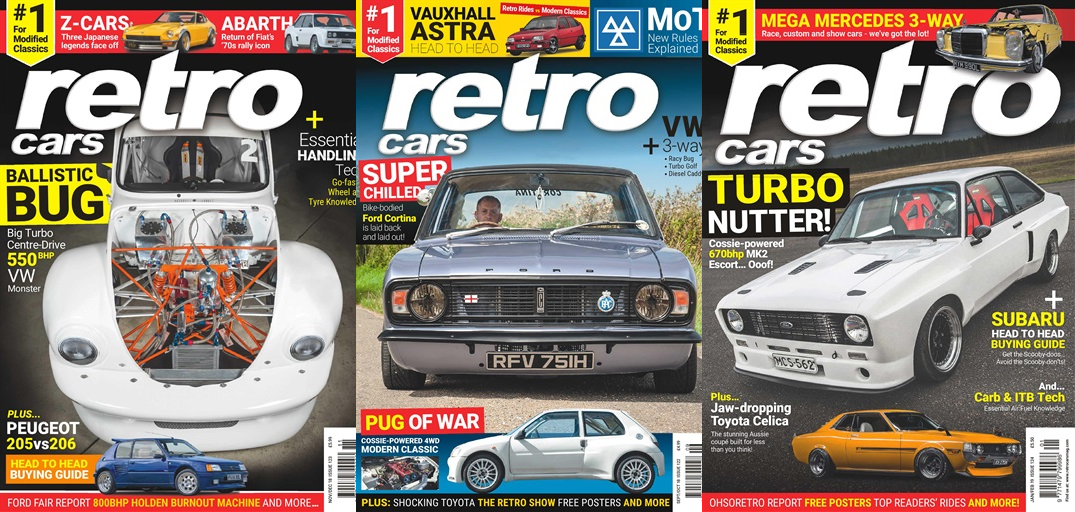 Welcome to Retro Cars

Cover Price: £4.99
Frequency: 6 issues a year
Editor: Dan White
Managing Editor Contributor: JJ Vollans
Designer: Paul Sander
Standard annual subscription rates:
UK: £29.94
Europe: £36.00
USA & Canada: £36.00
Rest of the World: £39.00
Retro Cars magazine is the only dedicated monthly magazine for modified classic cars. Reflecting the massive diversity and attitude of this growing and stylish market, the magazine focuses on cars from the 1950s to the 1980s, and is packed with the finest show, daily-driven, and concours classics around.

Ultimately if it's old, cool and oily, you'll find it in Retro Cars...

With accessible technical features covering all aspects of modified classic cars, and unrivalled extensive show coverage from around the world and so much more, this is the magazine that classic car owners and enthusiasts can't get enough of...
---
Subscribe today to get your favourite magazine every month, plus your car gets a treat too with these fantastic Valet Pro cleaning products, absolutely FREE!
Advanced Neutral Snow Foam: A high foaming pre wash used to remove traffic film and other grime prior to shampooing a car. This product sits on the surface and encapsulates dirt, lifting it from the paint surface and carrying it with the foam when rinsed off.
Advanced Poseidon car wash: Using a special blend of cationic and polymers this car shampoo removers dirt with ease and when rinsed a protective gloss enhancing ?lm is left on the paint surface. This sacri?cial layer helps prolong the protection of your wax or sealant.
Mad Wax: Manufactured using a blend of Montan & Carnauba waxes, it's easy to use, has fantastic gloss and importantly offers up to three months durability. It's easy to apply and buff to a high gloss shine
---
Be the first to read each issue and subscribe now. Your magazines will be sent direct to your door before they go on sale in the shops.

Please note that we can only deliver subscription gifts where applicable to addresses within the UK.