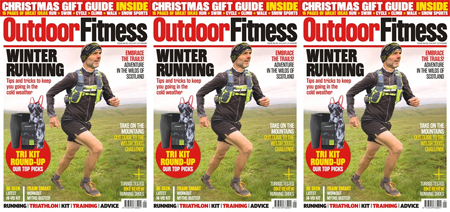 Welcome to Outdoor Fitness

Outdoor Fitness magazine:
Cover Price: £4.99
Frequency: Monthly
Editor: John Shepherd
Contributing Editor: Jonathan Manning
Digital Editor: Katherine Weir
Standard annual subscription rates:
UK: £59.88
Europe: £70.99
USA & Canada: £70.99
Rest of the World: £77.99
Outdoor Fitness is about running along trails, hiking up mountains, sleeping under the stars, riding on two wheels through mud, swimming in lakes, tarns, rivers, brooks.

Outdoor Fitness is about exploring places overseas, but more so about exploring what's at home – delving into our mountains, hills, forests, and even cities. It's about making the most of whatever green spaces we can find. And it's about getting fit, but making sure that the process by which fitness is achieved and maintained is fun and fulfilling. It's not about working out, it's about getting out.

---
SPECIAL CHRISTMAS SUBSCRIPTION OFFER

SUBSCRIBE TO OUTDOOR FITNESS AND RECEIVE 6 ISSUES FOR £18 OR 12 ISSUES FOR £35

---
Be the first to read each issue and subscribe now. Your magazines will be sent direct to your door before they go on sale in the shops.

Please note that we can only deliver subscription gifts where applicable to addresses within the UK.