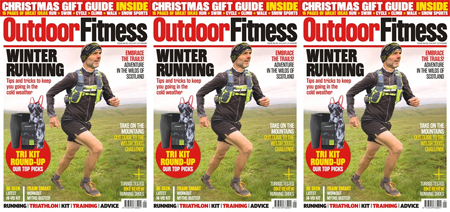 Welcome to Outdoor Fitness & Adventure magazine
Outdoor Fitness & Adventure magazine:
Cover Price: £4.50
Frequency: every 6 weeks
Editor: John Shepherd
Contributing Editor: Jonathan Manning
Digital Editor: Katherine Weir

Standard annual subscription rates:
UK: £36.00
Europe: £44.99
USA & Canada: £44.99
Rest of the World: £48.99
Outdoor Fitness & Adventure is about running along trails, hiking up mountains, sleeping under the stars, riding on two wheels through mud, swimming in lakes, tarns, rivers, brooks.

Outdoor Fitness & Adventure is about exploring places overseas, but more so about exploring what's at home – delving into our mountains, hills, forests, and even cities. It's about making the most of whatever green spaces we can find. And it's about getting fit, but making sure that the process by which fitness is achieved and maintained is fun and fulfilling. It's not about working out, it's about getting out.

SUBSCRIBE TO OUTDOOR FITNESS & ADVENTURE AND RECEIVE A FREE MULTI-ANGLE HEADLAMP

HEADLAMP: The 12 long-life white LED's provide super bright illumination for hours. The multi-angle adjustable head allows for quick and easy adjustment of the light. A soft adjustable elasticated headband provides comfortable and secure hands-free operation. Features four functions: low, medium, high and flashing and includes 3 x AAA batteries.

So go on what are you waiting for, subscribe to Outdoor Fitness & Adventure magazine today!

Please note that we can only deliver subscription gifts where applicable to addresses within the UK.