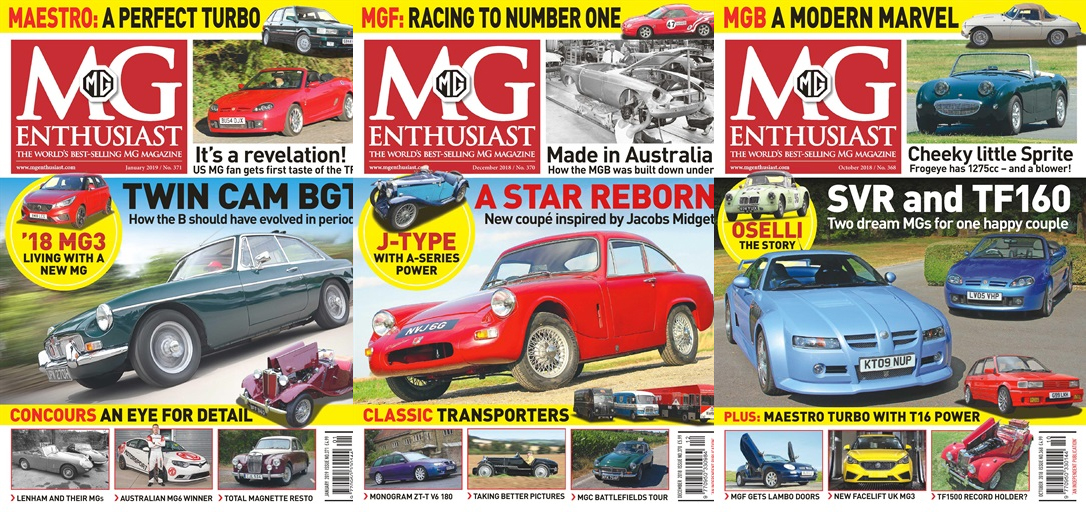 Welcome to MG Enthusiast magazine
MG Enthusiast magazine:
Cover Price: £4.60
Frequency: 13 issues a year
Editor: Simon Goldsworthy
Art Editor: Andy Hill

Standard annual subscription rates:
UK: £59.80
Europe: £72.99
USA & Canada: £72.99
Rest of the World: £79.99
MG Enthusiast magazine, the world's best-selling MG magazine, is the long-established make-specific publication dedicated to all MGs, covering all examples from the earliest 14/40s, through the T-Types to the more familiar shapes, including the Midget and the ubiquitous MGB; and not forgetting the more contemporary mid-engined MGF and the ZR/ZS/ZT saloons and hatchbacks.

SUBSCRIBE TO MG ENTHUSIAST AND RECEIVE A FREE PREMIUM CAR CLEANING KIT

Subscribe today and enjoy your favourite magazine delivered direct to your door. Plus receive acomplete set of cleaning and enhancement tools to make your car areal Concourse winner, absolutely FREE
Each tool has a non slip, ergonomic handle, specifically designed to make cleaning different parts of your car easier and efficient. Make bodywork gleam with the contoured car wash sponge. Tyres will be left looking like new with the scrubber. The alloy wheel brush, designed to get into every nook and cranny between the spokes, will make easy work of grime, brake dust and road dirt. Last but not least, to remove those smears at the end of the wash, valet the car with the synthetic chamois, formulated to absorb water for effective drying and water clearance.

So go on what are you waiting for subscribe to MG Enthusiast magazine today!

Please note that we can only deliver subscription gifts where applicable to addresses within the UK.