Welcome to GT Porsche

Cover Price: £4.80
Frequency: 13 issues a year

Standard annual subscription rates:
UK: £62.40
Europe: £74.49
USA / Canada: £74.49
Rest of the World: £82.49

GT Porsche is the leading independent Porsche magazine for all owners, drivers and enthusiasts of Germany's most famous sports car maker. Packed full of the latest model reviews, buying guides, classic features, motor sport coverage and the latest news GT Porsche is a must for all Porsche fans.

Produced to the highest standards GT Porsche combines the best writers with the greatest photographers and ground breaking design to bring you the very best Porsche magazine on sale today.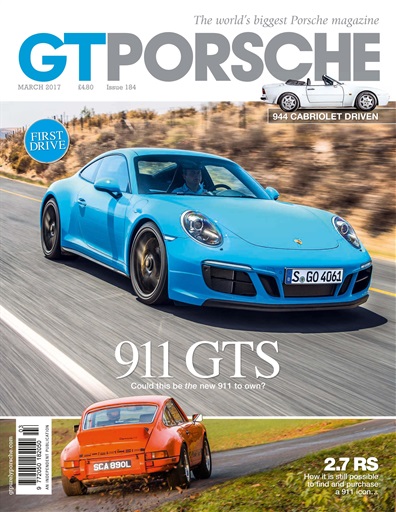 SUBSCRIBE TO GT PORSCHE AND RECEIVE A FREE PREMIUM CAR CLEANING SET!.


Subscribe today and enjoy your favourite magazine delivered direct to your door. Plus receive acomplete set of cleaning and enhancement tools to make your car areal Concourse winner, absolutely FREE
Each tool has a non slip, ergonomic handle, specifically designed to make cleaning different parts of your car easier and eficient. Make bodywork gleam with the contoured car wash sponge. Tyres will be left looking like new with the scrubber. The alloy wheel brush, designed to get into every nook and cranny between the spokes, will make easy work of grime, brake dust and road dirt. Last but not least, to remove those smears at the end of the wash, valet the car with the synthetic chamois, formulated to absorb water for effective drying and water clearance.

SUBSCRIBE TO GT PORSCHE MAGAZINE...

Never miss an issue
Free delivery to your door
Save money on the shop price
Free membership to our Book Club, where you save 25% off all listed titles

Be the first to read each new issue and subscribe now. Your copy will be sent direct to your door before the magazine goes on sale in the shops.

Please note that subscription offers with free gifts are only available for new subscribers and for despatch to UK addresses