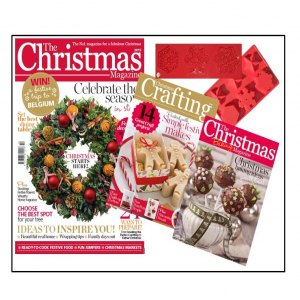 Xmas Mag, Crafting, Baking and Mould Bundle Offer
BOOKS
Ref: XMASBUNDLE15
The Christmas Bundle Offer

What is included?

The Christmas Magazine
The Christmas Crafting Magazine
The Christmas Baking Magazine
Snowflake and Star Baking Mould

All for £4.99 (when delivered within the UK)


Read below to find out more on this great value offer...

The Christmas Magazine 2015

The number one magazine for a fabulous Christmas

Set the best dining table

Choose the best spot for your tree

Festive Decorating
Six magical schemes for a festive feel in your home

Gift Guide
Find perfect presents for all the family

Ideas to Inspire you
Beautiful real home
Wrapping tips
Family days out

24 ways to prepare
From booking the panto to writing to Father Christmas

Other features include
Stockings
Festive flowers
Wreaths
Home Fragrance

The Christmas Crafting Magazine
14 Great Craft Projects
36 page special edition magazine.
Inside you'll find some fantastic festive projects to help decorate your home for the holiday season. From a charming reindeer head for your wall to simple tree decorations, you'll find something to get your teeth into.
The editors favourites are featured on the front cover - the gingerbread men soaps, which will not only add a novelty touch to the bathroom but will also make a lovely gift.
Alongside our traditional craft projects we've included ideas for the hunter gatherers. Use collected driftwood to make a simple Christmas tree wall decoration or look out for moss-covered branches to create a rustic hanging star.
The Christmas Baking Magazine
16 page magazine.
We've brought together a collection of recipes to get your holiday baking off to a great start. Choose from three delicious cookie types, perfect for packaging up for pressies; quirky cupcakes, fun cake pops. decorative macarons, Christmas pudding rum balls and a show stopping seasonal berries cake.

Baking Mould

A practical and fun mould with three star shapes and three different intricate snowflake designs. Great for use in all of your baking to add that festive touch.

Price includes postage and packaging within the UK
View delivery options