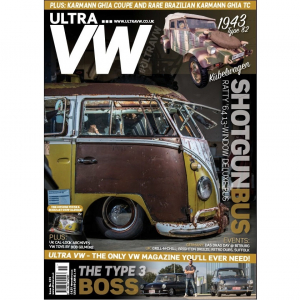 Ultra VW - CLOSED - #159 November 2016
£5.20
The price is for UK and Overseas price will be higher. For Overseas prices click
here
Europe
£6.20
North America
£6.20
Rest of the World
£6.20
Ultra VW Back Issue

November 2016

Inside this issue:

Features:
• the type 3 boss
We check out two of Europe's best known Type 3s, which belong to one very lucky guy...
• touring coupe
The Brazilian-built Karmann Ghia TC is a very rare model here in Europe
• shotgun bus
Peppered with bullet holes and smothered in rust... this Bus is krispy fresh, and we love it!
• karmann coupe
Looking lovely in lavender!
• achtung, baby!
This Kübelwagen is a wartime relic
Events:
• catching the breeze
The annual pilgrimage to Madeira Drive!
• retro dub, suffolk
Paul Knight heads for Suffolk to check out a cool gathering at an airstrip
• das drag day
All the news from Bitburg, Germany
• the big chill
Grill-n-Chill has become a big deal in recent years and is perhaps now the best show on the South coast!
Plus:
• our cars – peter's t25(s)
A new gear shift kit and a new project!
• vw toys
Bob Gilmore's guide to VW collectibles
• news
Products, news and reviews...
• uk cal look archives
Steve Payne hits memory lane
• classifieds
Sell your VW for FREE, only in Ultra VW!