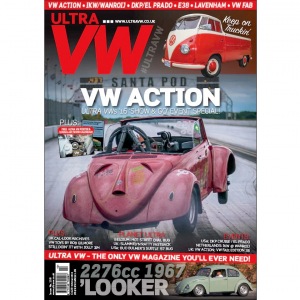 Ultra VW - CLOSED - #158 October 2016
£5.20
The price is for UK and Overseas price will be higher. For Overseas prices click
here
Europe
£6.20
North America
£6.20
Rest of the World
£6.20
VW Ultra Back Issue
October 2016

Inside this issue:
Features:
• old school
Bud Bulmer's US-spec '67 sunroof Bug is subtle, slick, street legal and quick!
• karl's custom
With large-diamter Fuchs rims and a factory-fresh body, this Bug is one cool custom street racer
• daily designed
Rollin' on detailed Fuchs, this slammed, patina-perfect Fastback is one cool ride!
• fools gold
Chris Hansen's Split screen single cab is very much part of the family. Read all about it in Ultra VW!
Events:
• vw fab festival
PK checks out Norfolk's best-kept secret!
• lavenham vintage meet
The Historic VW Club gathering in detail...
• v-dub island 2016
The Isle of Wight VW funky-fresh'tival!
• the challenge
Part 2 of The Classic Week coverage – the DKP cruise and El Prado meet!
• ikw @ wanroij
Dokke Sahertian reports on this huge, Netherlands-based, air-cooled meet
• vw action 2016
Clare Tarbox heads for Santa Pod to check out the show'n'go fun at the 40th anniversary of VW Action
• edition 38
Peter Simpson heads for Northampton
Plus:
• vw toys
Bob Gilmore's guide to VW collectibles
• still 'doin it!
Jolly Jim's luck goes from bad to worse..
• news
Products, news and reviews...
• uk cal look archives
Steve Payne hits memory lane
• classifieds
Sell your VW for FREE, only in Ultra VW!